Staff changes in 2018
Business Manager Br. Barry Smith was transferred to the MSC Douglas Park facility in the NSW Southern Highlands in July after 15 years as the College's Business Manager. He has been an integral part of Daramalan in one capacity or another since first arriving at Dickson in 1972. Sadly, he was also the last MSC at Daramalan. As of 23 July 2018, and for the first time since 1962, there are now no MSC on staff at the school. Fr Jim Littleton and Fr Harold Baker are still living at the Residence, but play no role in the day-today life of the College. A sad, but inevitable change, especially for those of a certain vintage who can remember when there were more priests and bothers working here than lay staff. The new Business Manager is Phil McCorkell.
Also leaving at the end of 2018 will be Assistant Principal Ian Garrity who is taking up the position of Deputy Principal at St Eddies. Ian has been a fixture at Dara both as a student (leaving in 1990) and then as a teacher for many years. A replacement for Ian is currently being sought. On the similar note, Principal Rita Daniels has been re-appointed for a further three years.
Lastly Mrs Jan Dudley, who headed up the school's Library, retired in July after nearly 30 years.
2018 Events
Wine-tasting evening
As part of the school's fund-raising endeavours, each year we intend to invite ex-student winemakers to come back to Dara and present their products to both our Alumni, as well as parents and staff. This year our wine host will be David Faulks (1978) from Tallagandra Hill Wines. David, who is was School Captain, has maintained a strong connection to the Daramalan family over the past 40 years.
David and his wife Mary bought Tallagandra Hill Winery in 2016 which has the added bonus in ensuring his ex-student sons Ben (1999) and Sam (2001) as well as their respective families, become a fundamental part of the winery. The wine-tasting evening – with all funds raised going to the Br Dave Merrick Scholarship Fund – will be held at the College on Friday 14 September. Just five weeks away and all Alumni and partners are invited. Tickets are only $50pp and it's guaranteed to be a great night.
Last year we had Tim Kirk (1984) from Clonakilla show off his wines, and that was a sell-out weeks in advance. So, can I suggest you get a few friends together and come along and both share the results of David's passion as well as support a very worthy cause. Plus, it will give you an opportunity to come back and have a quick look at the "old place". Tickets for the night can be obtained at https://www.trybooking.com/QPJH
Current student activities
In horse news, Archie McGrath Weber (current Year 11) has been selected to represent Australia in the up-coming U/17s Australian team for the Mounted Games in Belgium commencing in two weeks. Ex-student Jack Durr (2015) has also represented Australia in the same games.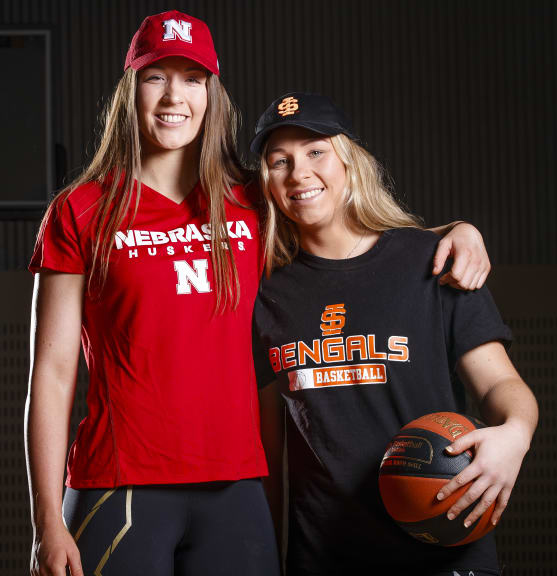 Callie & Isabelle Bourne. The basket-balling Bourne sisters, Callie (2017) and Isabelle (Year 12) will be leaving Australia for the United States later this year to play in the prestigious US College basketball season. Callie will be playing for the division one Idaho State University and Isabelle has been picked up by the University of Nebraska-Lincoln.
College Drama
The Drama productions at Daramalan just keep getting better and better. In the 2018 CAT (Canberra Area Theatre) Awards the Daramalan Theatre Company won seven Awards from thirteen nominations. Some of the winners were:
BEST YOUTH ACTOR IN A LEADING ROLE IN A PLAY: Oliver Durbidge (2017) as Hamlet in "Hamlet".
BEST YOUTH ACTRESS IN A LEADING ROLE IN A PLAY: Zara McCann (2017) as Gertrude in "Hamlet".
BEST DIRECTOR OF A SCHOOL OR YOUTH PLAY: Teacher Joe Woodward for "Hamlet".
BEST PRODUCTION OF A SCHOOL OR YOUTH PLAY: "Hamlet".
Also, 2017 student, Meaghan Stewart (2017) won BEST YOUTH ACTRESS IN A LEADING ROLE IN A MUSICAL as Mrs Lovett in "Sweeney Todd".
Ex-student activities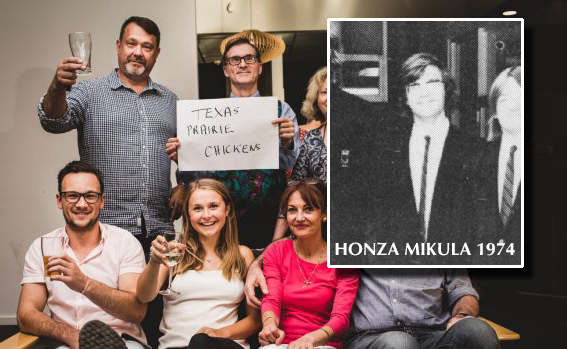 Honza Mikula (1974) apparently loves a quiz challenge and was featured in the Canberra Times back in February this year. He has also appeared on "Who wants to be a Millionaire", and the ABCs "Rockwiz".
http://www.canberratimes.com.au/act-news/canberra-life/are-the-texas-prairie-chickens-canberras-best-trivia-team-20180205-h0trr3.html
As part of Australia's new National War Memorial in France, glass artist and ex-Dara student Lisa Cahill (1992) was commissioned to produce a crystal sculpture of the Rising Sun. Over 170cm wide with 28 individually cast lead-crystal rays, Lisa's work is an achievement in structural engineering with each ray resting upon the next. Lisa is a leader in the public art space and has a fulltime studio in Canberra. Her work is displayed in many prestigious collections including the Canberra Glassworks, Palm Springs Art Museum in California, and the Ebeltoft Glass Museum in Denmark.
 Dr Angela Worthington (1992) is now Dr Angela Worthington, a Cardiologist operating in the Newcastle area. She graduated with a Bachelor of Medicine from the University of Newcastle and is a Fellow of the Royal Australasian College of Physicians. (EDIT May 2020: sadly Angela passed away in February 2020).
Lucy Warhurst (1994), vice-captain 1994, has just been appointed Chief Executive Officer of Equestrian Australia. She has a Degree in Sports Science and has worked in sport at a state and national level in Australia, and at an international level in the UK. She also has more than 16 years of management experience with sporting bodies including the Australian Olympic Committee where she worked at the Rio Olympics in 2016 as Headquarters Manager overseeing the support for seven Australian Olympic sports, and the London Olympic Games in 2012 where she was a Section Manager.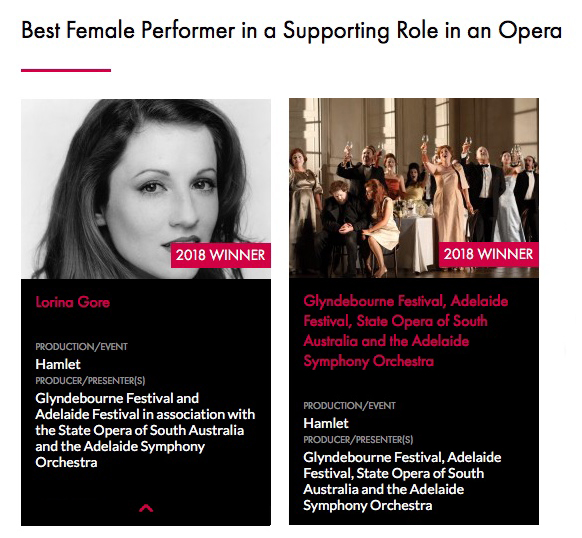 For the second year in a row, Lorina Gore (1995) received major recognition at the annual Helpmann Awards. Lorina won the "Best Female Performer in a Supporting Role in an Opera" for her performance in "Hamlet" which was also chosen as the Best Opera for 2018. A wonderful achievement!
Congratulations to Melissa Dawe (1997) who is now part of the Stan Lee Marvel Universe in Hollywood. Melissa, who recently moved to LA to further her movie career, appeared in Marvel's "Thor: Ragnarok" with Chris Hemsworth last year. Prior to that she worked on the TV mini-series "Hoges: The Paul Hogan Story", which, personally, I thought was great but the critics disagreed.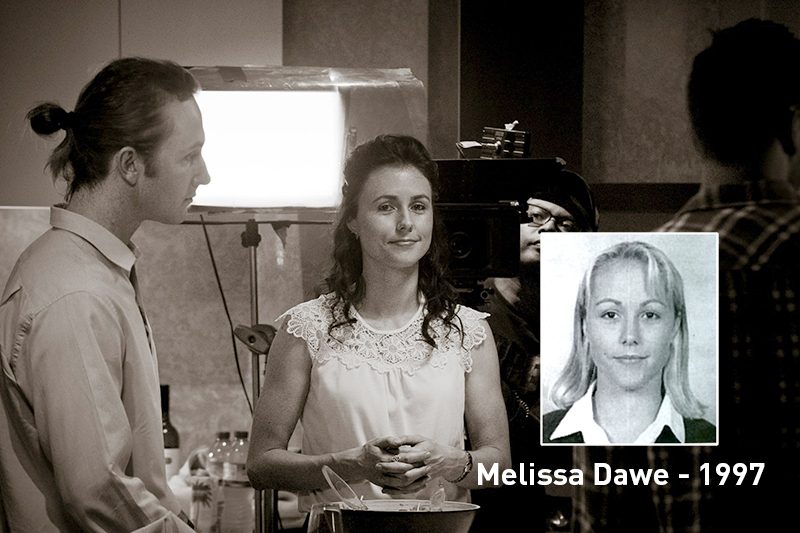 Melissa had to turn down a role in the Warner Bros. production of "Aquaman" when her father had a sudden stroke and subsequently passed away in 2017. She is currently working on a TV pilot called "13 – Dead End" which sees her playing a violent, tough woman fighting for her life with her lover after a wild night goes horribly wrong. (Always the way isn't it!)
Melissa moved to the States after playing the lead roles in many Indie Australian films, web series, stage plays and commercials. Her background in elite gymnastics proved an excellent transitional skill when it comes to film fighting, stunts and stage combat, often required in movies. In the 1997 Dara Yearbook, Melissa was earmarked as "most likely to attend the Olympic Games" for gymnastics or trampolining and tumbling. At the time she was ranked fifth in Australia, and would have been selected if not for a permanent injury ending her career prematurely. So instead, she has to make do with Chris Hemsworth. We feel your pain Mel, we really do.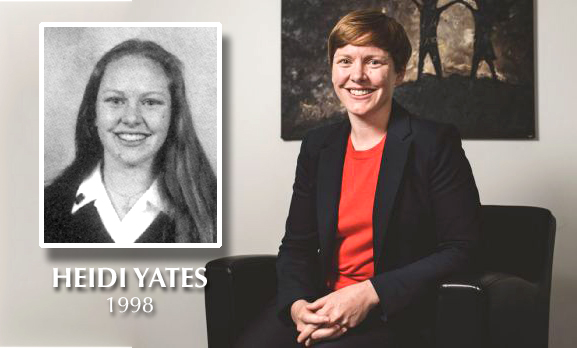 Heidi Yates (1998) is now the new ACT Victims of Crime Commissioner.
Heidi, who was a "Young Australian of the Year" finalist in 2011 and nominated as "Young Lawyer of the Year" in 2008, took up her position in March. She was also College Captain in 1998 which no doubt gave her an excellent grounding for her current role.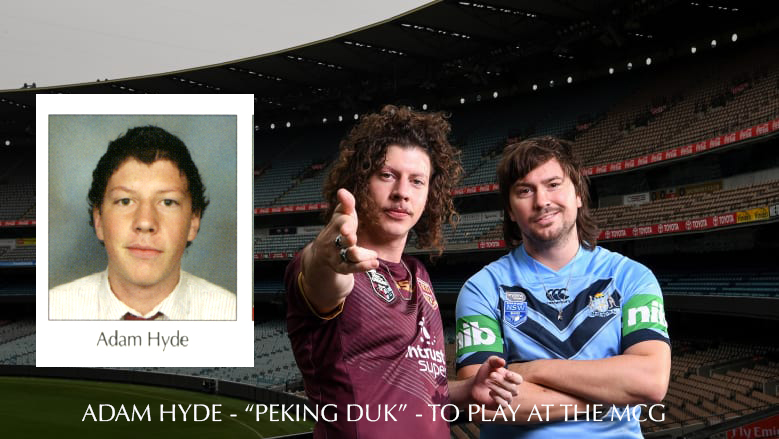 Adam Hyde (2008) as part of local band "Peking Duk", was the chosen musical act at the opening State of Origin at the MCG this year. It may not have been the most inspired choice for a parochial Melbourne audience, who are more used to Barry Crocker, Peter Allen and Olivia Newton John in the 70s and 80s and Meatloaf, Chris Isaak and Mike Brady (Up there Cazaly) in more recent years, but they make their mark. Congratulations regardless and it was great to see a Canberra outfit take the national stage.
Mick Spencer (2008) owns and runs a customised sports apparel business company called ONTHEGO which outfits everyone from Australia's national hockey teams, the Hockeyroos and the Kookaburras, to English football club, Sheffield, to grassroots kids' clubs in the bush.
Mick started the company in 2012 while he was studying sports science and began by printing customised jerseys in his parents' garage. (Bet his parents were over the moon about that!)
He was the kid from O'Connor who grew up mad for rugby but was never able to play it again after suffering a heart condition at age 14. He was diagnosed with atrial fibrillation, an abnormal heart rhythm, and later, supraventricular tachycardia (SVT), which can send the heart racing to 300 beats per minute.
"But then I realised the love for mountain biking and cycling. That I could control my heart rate myself. Sport has always been my outlet. "I've completed an iron man, two marathons and a few half-marathons.
His company now outfits everyone from Australia's national hockey teams, the Hockeyroos and the Kookaburras, to English football club, Sheffield, to grassroots kids' clubs in the bush.
His parents Cathy and Greg still live in Canberra and their cars are now back in their garage.
Mick's company produces more than 200 items, and has grown fast. Two years ago, Mick famously convinced three "sharks" on the TV show Shark Tank to invest $600,000 in OTG. The deal never passed due diligence but he didn't need the leg-up in any case.
Mick will also marry his fiancée, physiotherapist Alicia Jackson, next March. He has also treated himself to property and a car – a 2012 Aston Martin Vantage – but has invested most of the profit back into the business.
Alana Cunningham (2011) sadly contracted Multiple Sclerosis (MS) in Year 9. She has battled this disease ever since. She recently graduated as a lawyer working out of Sydney and ran the City2Surf in support of MS. Plenty of ex-Dara students contributed to her success and it's great that she has the strength and commitment to perform such a formidable task.
Jack Ward's (2011) only career objective while at school was to be a commercial pilot. Although not yet in an A380 or Boeing 787, he is currently living in Port Moresby and working with PNG Air flying 30-seat aircraft all over Papua New Guinea as well as the surrounding islands. He was recently taken to Toulouse in France to train on a new Airbus model which has just been purchased by the airline. Next stop, Qantas.
Jake Helgesun (2011) who plays lock for the Gungahlin Eagles, was the co-winner of the MacDougall Medal, the major award in the John I Dent Cup competition, which was announced at the end-of-year rugby function on Wednesday night August 15. Congratulations Jake.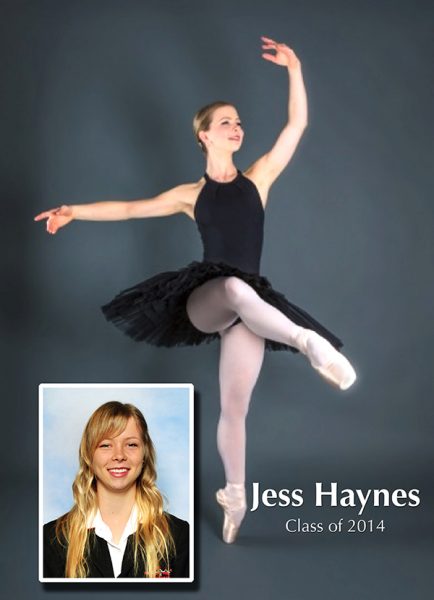 Jess Haynes (2014) is in Miami USA working with the Royal Caribbean Cruise Line, the second largest cruise operation in the world, as a professional dancer.
She graduated from the West Australian Academy of Performing Arts last year where she received the 2017 Finley Award for Dance.
The company has 26 cruise ships and her first trip departed late May going to Alaska, Canada, Hawaii and then Sydney.
Solomon Grainger (2016) is one of Canberra's most exciting new artists, had a very successful exhibition at the Belconnen Arts Centre over June this year.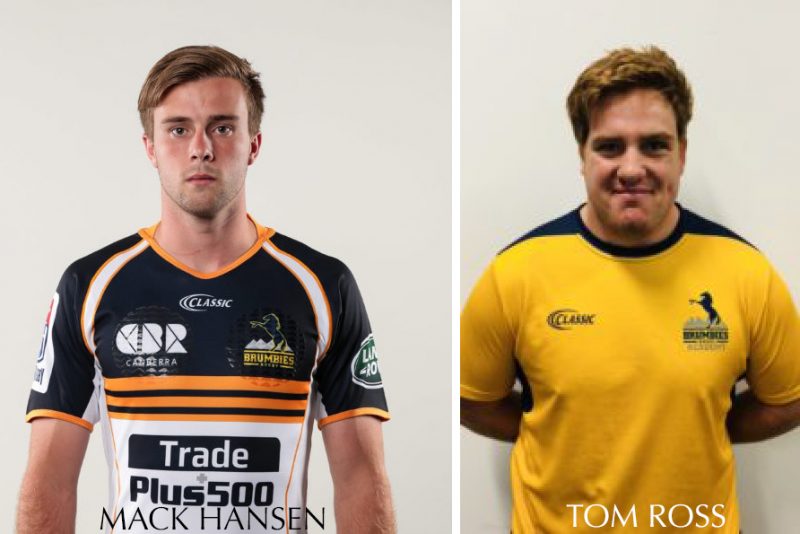 Tom Ross and Mack Hanson (2016). Both Tom and Mack were selected to play for Australia in the recent U/20s Rugby World Cup in France. Both boys excelled in their respective roles, and were great ambassadors for the Junior Brumbies their usual club.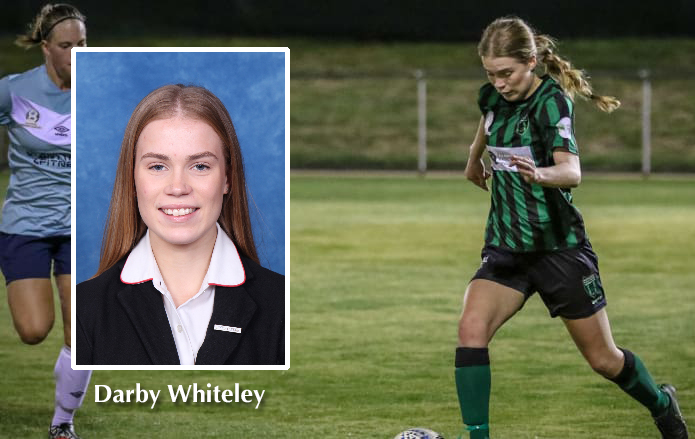 Darby Whiteley (2017) is currently in the United States about to play soccer for the National Junior College Athletic Association. She is, however, planning on returning to Canberra eventually where she will be looking for a spot playing in the W-League.
Daramalan Alumni news January 2018
---
Congratulations Nick
After many years of roller-coaster results, Daramalan ex-student Nick Kyrgios has finally proven his talent, with an empathic win in the finals of the Brisbane International in early January 2018. He took the winners cup with a two sets 6-4 6-2 thrashing of his American opponent 22-year-old Ryan Harrison.
And at the Australian Open in January Nick finally came of age advancing to the last 16. Proud to be a Daramalan Alumnus
---
Great ATAR results
Congratulations to our Year 12 2017 students who have achieved some great scores in the 2017 ATARs.
There were 33 students who achieved an ATAR above 90, 21 above 95, and 6 above 98.
The two highest ranking students were Isobel Bender, our 2017 College Captain, and Ryan Locke, the 2017 Vice Captain – Mission. Both students achieved ATARs above 99, with Ryan achieving the overall top rank at Daramalan.
Congratulations to all two hundred 2017 students, our newest Alumni members.
---
Brighid McClelland – Queen of the Court
2016 Dara student Brighid McClelland was chosen as Volleyball ACT'S Referee of the Year at the Volleyball Awards in August 2017. Not only did she take off the Big One, but also won the Coach's Award for the U/19 Women's Volleyball Team. Again!
She is also an official for the Australian Volleyball League and was a lines person at the women's Grand Prix finals and the men's world championship qualifier in July – along with refereeing local open and recreation competitions! Live, Love, Volleyball! Congratulations Brighid.
---
Happy Birthday Mrs Reid
In an amazing display of longevity, ex-Daramalan teacher Mrs Jean Reid celebrated her 102nd birthday last weekend. Jean started teaching at Daramalan in our very first year of 1962. She taught in the primary school and later went on to develop and work with the Supportive Education students. She is now (well and truly) retired and living down the South Coast. Happy Birthday Mrs Reid!
---
A great Footy story!
It really wasn't much of a surprise, but congratulations must go to talented Mack Hanson (Year 12 2016) who has just been picked up by the Brumbies for 2018. Daramalan's 1st XV last year was full of talent and Mack was one of the shining lights. This is a great career accolade and very well deserved. Congratulations again!
---
Ex-student wins 2017 Helpmann Award
In some wonderful creative news, our very own Lorina Gore (Class of 1995) won the award for Best Female Performer in a Supporting Role in an Opera at last night's Helpmann Awards in Sydney. Lorina plays Roxana in Opera Australia's production of "King Roger" which is on at the State Theatre in Melbourne.
When she was here at Daramalan, Lorina even back then stood out, saying "she came to Daramalan for our Creative Arts department". She went on to win the very first local Canberra Theatre Award for her performance in our 1995 College musical.
Lorina has had regular lead roles with the Australian Opera since then, including Violetta from "La Traviata", and now lives with her husband and son in the NSW Southern Highlands. Congratulations Lorina!
---
Ex-Dara girl voted Best Apprentice Chef for 2017
Congratulations to Jasmine Sawa (Class of 2015) who was voted Best Apprentice Chef for 2017 at the annual AHA ACT Hospitality Awards held on Monday night 17 July.
Jasmine is currently working at Monster Bar in Hotel Hotel Acton. Great work Jasmine.
---
Mick Edstein AM
In the recent Queen's Birthday Honours, announced on 12 June, ex-Dara boy Mick Edstein (Class of 1971) was awarded an Order Of Australia. Now Lieutenant Colonel Michael Edstein AM, his award was for exceptional service to the Australian Defence Force in vector borne disease research.
The Award recognised his 40 years of dedicated work with the army's Malaria Institute, including many years as the Commanding Officer/Civilian Director. He is no longer in the regular army but has retained his rank in the Reserves and is now working in the unit as the senior civilian.
Now living in Queensland Dr Edstein played a leading role in the establishment of the Vietnam Australia Defence Malaria Project contributing to the successful outcome of many of the clinical and field studies in Vietnam. Congratulations Mick.
---
Dara boys part of historic national Rugby winning team
In a stunning 30-11 victory, the Daramalan-rich ACT Schoolboys team today won the national rugby competition, the first time in 30 years. Played in Sydney on Saturday 8 July, the boys played their hearts out to beat Queensland to bring the trophy home for the first time since 1988 with that team led by another ex-Dara boy Marco Caputo, who went on to play for Australia. Congratulations to all the players especially the Daramalan boys, Joel Atkins, Isaac Crowe, Tom Haddad and forwards coach and teacher Ben McGee.
---
We're sold on the success of ex-Dara students
Being a Real Estate Agent is a tough game filled with long hours and just plain hard work. However, if you want that business edge, It's clear that having been a Daramalan Year Captain is the way to go.
Allhomes, the local on-line property website, have just released their list of nominations for the real estate Rising Star of 2017.
This year it features two Daramalan ex-students, Rina Jones (Everett) from 2011, and George Southwell, College Captain from 2013. George and his father Simon (another ex-Dara student) own Ray White Rural in Hall and Yass. The winners will be announced at an awards ceremony on 26 July.
Also on real estate, Craig Sheargold – vice-captain from Class of '85 – is Luton's long standing Company Sales Manager and Auctioneer. (Craig is the brother of Marty Sheargold the radio & TV personality and stand-up comedian.)

---
Vale Dr Doris Nicoll, ex-teacher
There are many members of the Daramalan Alumni who were here in the 80s and 90s.
Sadly I need to let you know of the passing of Dr Doris Nicoll who was the Daramalan Science Coordinator for many years during these decades.
Doris died on Saturday, 24 June, after a long illness. There was a memorial held  for her in Bungendore the following week. May Doris rest in peace.
---
When the pressure is on, who you gunna call?
Really great to see one of our ex-students being recognised in the Emergency Services arena. Matt Butters (Class of 2000), who works with the ACT State Emergency Service, was recently awarded the Emergency Services Medal for the work and the dedication he brings to both the ACT SES as well as the national SES community. Congratulations Matt.
---
Coffee lovers, this is for you:
If you're seeking the offical world's best cup of coffee, you'll need to visit Taiwan. However, if you are happy to put up with second best, you only have to trot out to ONA Coffee in Fyshwick, 7300kms closer to home. (Unless of course you already live in Taipei.)
At the World Brewer's Cup competition in Budapest in early July, ex-Dara student Sam Corra (Class of 2005), the head roaster at ONA Coffee House in Fyshwick, achieved second place in this tough international competition. An amazing achievement; congratulations Sam. Well, that's my work done for the day, I'm off to Fyshwick…
---
A good news story
Most of my posts on this site concern ex-Dara students who have gone on to achieve some wonderful and amazing things. However, every now and then it's the little things that are worth sharing. Because little things that come easy to you and I can be huge hurdles for others.
So with pride I'd like to let you know that Queenie van de Zandt (Class of '88) has just given birth to a baby girl. I'll let Queeenie explain her own hurdle:
"My partner Jonny and I feel so incredibly blessed to have our long awaited little miracle in our lives. We had to work very hard to make this dream come true, including 3 years of IVF and a donor egg from my beautiful younger sister Shannelle – and it's like Billie knows we had to work hard – because she is just so happy to be in the world." Congratulations Queenie! She goes on: "But in my infinite wisdom (not) I decided last year, that I would still have time, while looking after Billie, to create a new show and tour it around the country (I can hear Mum's around Australia laughing). It nearly killed me – but I did it…with the help of my co-writer and incredible musical director, Max Lambert and producer extraordinaire Neil Gooding – we have a magical little show that had it's world premier to a sold out, jam-packed house in Brisbane, as part of the fabulous Queensland Cabaret Festival." It's now headed for Melbourne and Sydney.
A really good news story.
---
It's surprising what life holds for you
Ex-student Alana Cunningham from 2011 contacted me in late April to let the Daramalan Alumni updated as to what she has been up to since leaving six years ago.
She majored in French at the ANU, and last year completed Honours in French studies.  Alana is also an active member of the Daramalan Alumni Choir run by current teacher Mrs Dunn who started it in 2012.
However, there is also a darker cloud hanging over Alana. In Year 9 she was diagnosed with Multiple Sclerosis, a fact not widely known at the time. She said, "I adored my time at Daramalan College and the pastoral care and support that Daramalan provided during this stressful time was very much appreciated". We wish her all the best in her future.
---
Lindley family helped by Dara
One of Daramalan's most committed families, the Lindleys, recently lost everything including their home of 20 years in the devastating fires that wiped out huge areas of Carwoola just east of Queanbeyan in February. With four boys, all who went through the school, it was important that Daramalan showed them that being part of the "Dara Family" was more than just words. So late April we held a Uniform Free Day with all funds received donated to the the family to help them in some small way through their recovery process. Over $3000 was collected and they are seen here on being presented with their cheque.
---

Strange scenes
There was a very strange scene at Griffith Oval on Saturday 22 April when the Rugby match between the Gungahlin Eagles and Easts had to be stopped and shifted to a different field because of a serious injury.
Ex-Dara boy and Eagles stalwart Connor O'Byrne (Class of 2011) was tackled close to the sideline and suffered a suspected broken femur (thigh bone).
Connor asked medical staff to drag him off the field to let the game continue, but the referee and coaches decided to shift the game to the smaller Griffith Oval No. 2. Not very often you see that happen. We wish him all the best on his recovery.
---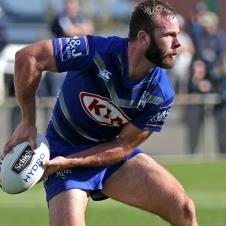 Sporting News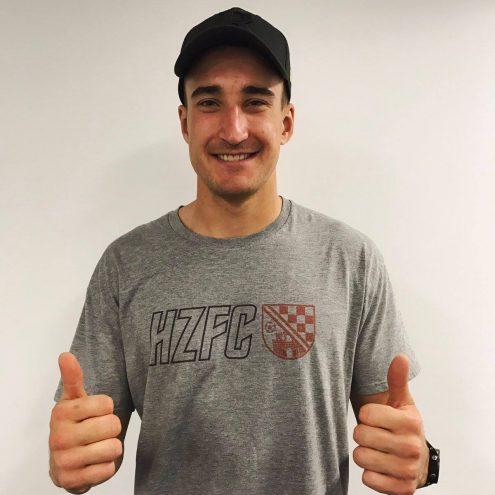 Matt Frawley from 2012 is now part of Canterbury Bankstown NRL team having made his debut against the Brisbane Broncos in late April. Not only is Matt playing but in the NRL but the AFL doesn' t miss out with the the weekend of 6 May hosting the debut of Ivan Soldo (Class of 2013) who ran out for Richmond against the Western Bulldogs at Etihad.
This from the Richmond FC website: "Promising, young ruckman Ivan Soldo has been selected by Richmond to make his AFL debut in Saturday night's Round 7 clash with Western Bulldogs at Etihad Stadium.
Soldo, who was originally signed by the Tigers as a Category B rookie in 2014, following an impressive basketball career at junior level in Canberra, gained his promotion from the Club's rookie list to the senior list earlier today."
In more sporting news, Michael Rice (2013) has done it again by winning the final stage of one of America's most prestigious cycling road races. A great story < http://www.canberratimes.com.au/sport/act-sport/canberra-cyclist-michael-rice-wins-final-stage-of-californias-san-dimas-stage-race-20170327-gv74bb> was published in the Canberra Times written by Caden Helmers another ex-Dara boy also from the Class of 2013 who has just stated work at the CT as a journalist. Excellent achievements all round!
---
Ed's heart has always been in the right place
Ed Wensing (Class of 1971) has always been passionate about not losing Canberra's heritage and hopefully he will get the support he deserves. This from a recent Canberra Times. http://www.canberratimes.com.au/act-news/chief-ministers-counterproposal-for-canberras-national-heritage-listing-20170411-gvihtx.html
---
Prickly problem solved by Dara girl
Very nice to see an ex-Dara girl being the first student to graduate with a Bachelor of Human Nutrition (first class Honours) from the University of Canberra, as well as solving the prickly issue of turning a common garden pest into something edible. See story here: <www.canberra.edu.au/about-uc/media/monitor/2017/april/uc-grad-finds-sweet-side-to-prickly-pear> Congratulations Caroline Gouws (Class of 2012). So say goodbye to that smashed avo and say hello sliced prickly pear at your local hipster dining nook! Just remember, you heard it here first. Thanks, and great work Caroline!
---
Happy birthday Fr Bob
Fr Bob Irwin (Principal 1983-1988) celebrated his 70th birthday recently. He is pictured here cutting his cake at a celebration for him at the College last weekend. Congratulations Bob. He now spends a lot of the year working with the MSC missionaries in Vietnam as well as across the other MSC schools in Australia.
---
Congratulations
Congratulations go out to ex-students Ben and Sam Faulks (Class of 1999 and 2001) who, as Principals of Ray White Belconnen, took out the award for best Best Medium sized Residential Agency in Australia at the annual Real Estate Institute National Awards for Excellence held at the Hyatt Hotel in March. Thoroughly deserved!
---
 Dara icons catch up
Probably over 70 years of combined service to Dara between these two. Teacher Mary Barton and ex-Principal David Garratt who caught up in Adelaide during April. Both looking in exceptionally fine health!
---
ACT Cricket
The Daramalan Cricket Presentation Night was held in McCowage Hall in March with ex-student John Rogers from 2004 as the guest speaker. John, who is now the Captain of the ACT Comets, gave an entertaining and motivating account of his rise through the ranks playing First Grade cricket with both Tasmania and WA, and now back home in Canberra. He started his love of the game at Dara and for that he will always be grateful.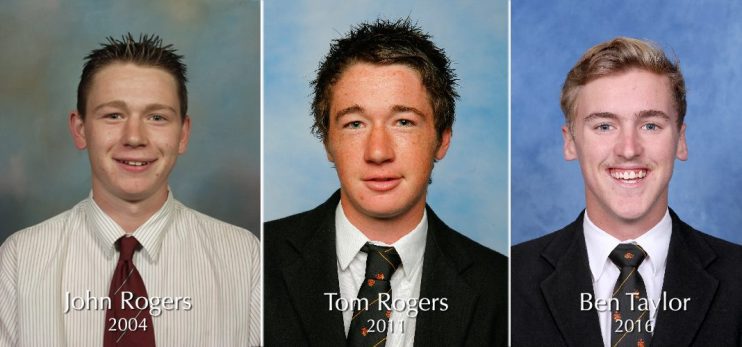 He finished his presentation by saying that 25% of the current Comets are ex-Dara boys which includes his brother Tom Rogers, Class of 2011, as well as Ben Taylor who left Dara last year. Today the Comets, tomorrow Australia!
---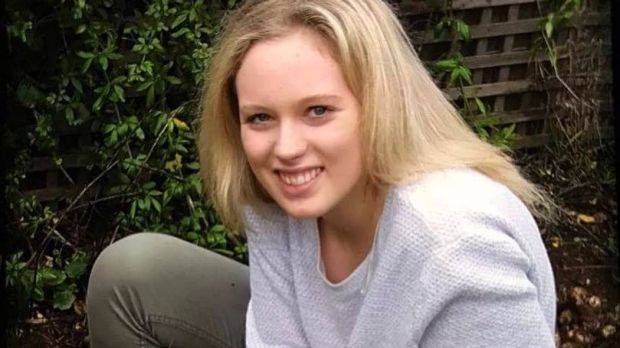 In March, the "Canberra Times" published an article featuring the hottest new upcoming chefs in Canberra. An ex-Daramalan student was featured, Jasmine Sawa who left in 2015. She is also the niece of "old boy" Mark Sawa from 1972. She is now working at "Monster Kitchen and Bar" in Edinburgh Ave in the city after a stint at the Press Club.
---
We recently said goodbye to: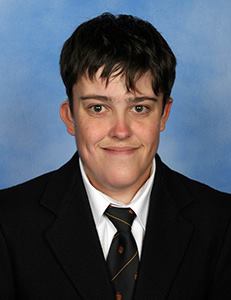 Matthew Taylor from 2007 who passed away in mid April. Matt had been ill for many years needing a lung transplant but unfortunately was unsuitable. So sad and so young.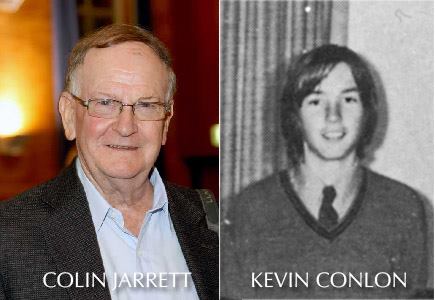 Teacher Mr Colin Jarrett. Sadly Colin passed away in the second week of April. He retired about 10 years ago and lived quietly in Lyneham. His funeral was held at St Brigid's Catholic Church in Dickson. A fine man and dedicated educator.
Kevin Conlon. Kevin left Daramalan in 1975 and he died unexpectedly in April. His sister Christine works here at the College in the AV dept in the Library.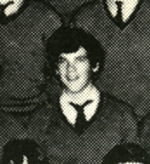 John Hurley from the Class of 1976 passed away last week from cancer. He was just 58. His funeral was at St Matthew's Catholic Church in Page. Many ex-students from the 70s will remember John who was in many ways a larger than life character and very well liked. He came from a family of seven with the girls all attending Catholic Girls High in Braddon. (Now Merici). The family lived in Reid just behind where CIT is now.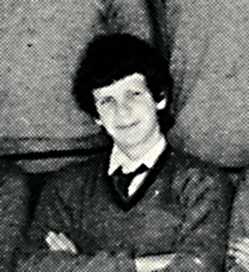 Mick Ward. Many of our older Alumni would remember Mick Ward from 1974. Mick had a long involvement with the College, not only as a student, but he was also very involved with the football club for many years. He also had two sons at Dara. Mick died of a particularly aggressive form of cancer in Albury on December 15 2016.
Passing of Fr Brian Hingerty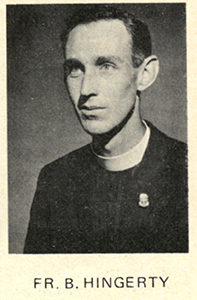 The Sixties at Daramalan was a decade of contrasts. On one hand the conservative ruling generation that had mostly experienced both the Depression and WWII strongly resisted change. On the other hand there were priests and lay staff at Dara that could see the winds of change were blowing our way and knew they could make a difference. One such agitator and link to this era passed away last week. Brian Hingerty, or Fr Brian Hingerty, when he was a priest and teacher at Daramalan, died suddenly aged 79 in Canberra.
From our perspective, as students, he was a much loved teacher excelling in Music, French, English as well as plenty of ex-curricular activities such as Choir, Cricket and Rugby.
He was not so well loved by the Archbishop at the time, after Brian and three other priests at Daramalan wrote a letter to the "Canberra Times" in 1968 questioning both the Pope's infallibility and consequently the right to make your own decisions regarding contraception. Don't forget this was the sixties and moral pathways were more clearly defined and rigid than they are today with greater expectation they would be followed without dissent.
As a consequence of this letter, Brian ended up leaving the priesthood along with Fr John Hanrahan. The third signatory, Fr Michael Fallon is still with the MSC and working in the parish around Douglas Park in the southern highlands. He was also the parish priest at Kippax for many years. The fourth priest, Fr Brundell, is still alive and working as the Parish Priest at Erskinville in Sydney..
I have posted a copy of their letter to the Canberra Times above and it resonates with common sense and logical argument, as it did when it was first published almost 50 years ago. It's well worth a read. Brian's funeral was at St's Peter and Paul Church in Garran, Tuesday September 13 2016.
Vale Fr Brian Hingerty.
---

Olympic News
Daramalan ex-student Nick Kyrgios, may feel his decision to pull out of the Olympics was justified, after claiming his second ATP title by downing John Isner in the final of the Atlanta Open over the weekend. The victory provisionally bumps Nick up to a career-high ranking of 16, and will give him a crucial top-16 seeding at the US Open later in August. We'll keep you posted.
TUESDAY 16 AUGUST 2016: Also in sporting news, Lauren Wells (Boden) from Class of 2006 competed in the Qualifying 400m Hurdles at the Rio Olympics this morning finishing in a time of 56.26, about a second and half behind the fastest qualifier. However this time is still good enough to get her into the semi-finals which will be run at 10.30am tomorrow (Wednesday) morning. Hopefully she hasn't been distracted thinking about her 10-year Reunion for the Class of 2006 to be held at the Rex on Northbourne Ave on 5 November. UPDATE WEDNESDAY: The 3rd Semi-final has now been run and unfortunately Lauren failed to make the cut. She placed 7th and only the top three go onto the finals. But great for even getting to this level.
---
150 game milestone
Congratulations to ex-student Ben McGee (Class of 2003) who passed a 150 game milestone playing for the Gungahlin Eagles in 2016. Ben is now a teacher back here at Daramalan.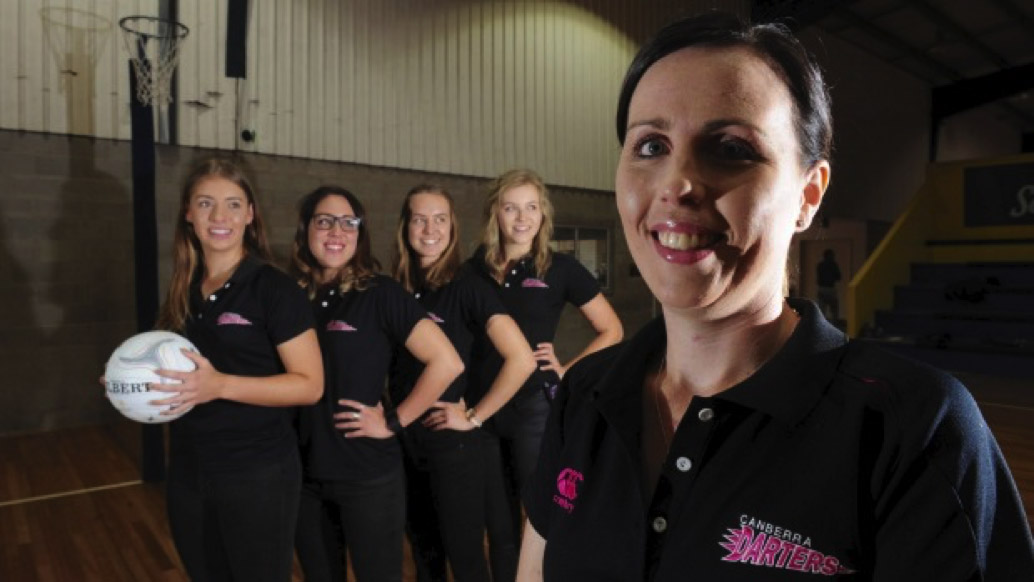 Dara teacher in prime position to take Netball final
"Scotland's captain Hayley Mulheron will headline a revitalised Canberra Darters squad chasing a maiden finals berth in this year's Australian Netball League", according to coach and Daramalan teacher Mel Clarke. "Mulheron played in last year's Netball World Cup, guiding the Scots to second in their pool behind Fiji."
Hayley stayed in Australia after the world cup, and Darters coach Mel Clarke jumped at the opportunity to sign her as an import for the 2016 season. Clarke said Mulheron would bring almost 10 years of international experience to the Darters, and would play a large role in the Darters' squad development. "Hayley stayed in Australia after the world cup last year, and she's keen to learn netball the Australian way," Clarke said. "She's made herself available for the ANL and we're really excited to have her on board. She adds a lot to our defensive line, and certainly will help the younger players adjust to that physicality of the ANL."
Clarke said playing alongside the ANZ Championship would give her players opportunities to be tested against some of the world's best netballers. "I think there's opportunities every week for ANZ players to be playing down against us, so there's opportunities for our players to test their skill against ANZ-level players, it will help prepare them for the next level.
The Darters take on last year's champions Victoria Fury in their season opener on April 30 before heading home to take on the Southern Force on May 14. (from The Canberra Times)
---

Youi spokesman's career began at Dara
Just remember, when you next watch one of those Youi insurance ads on TV, the face of Youi, Matthew Moore started his acting and media career right here at Dara.
---
Tim Markcrow in running for spot at Rio Games
Congratulations to ex-student Tim Markcrow from the Class of 2010 who is a hot contender to be chosen for the Paralympic Basketball team in Rio this year. http://www.canberratimes.com.au/…/paralympics-2016-tim-mark…
---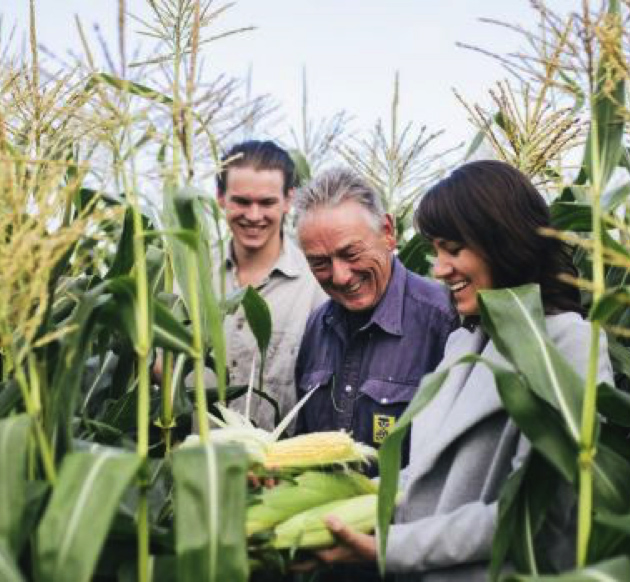 Excuse the corny puns
Free range egg farmer Nick Weber and son Fred McGrath-Weber (Class of 2011) from Majura Valley Eggs has now branched out into growing corn for both their farm-gate and for regional sale. Having a local source of fresh corn has encouraged Canberra restaurants such as "Elk and Pea" to add it to their menu.
The farm also produces border Leicester/Dorset lambs which Bungendore butcher Paul Darmody processes. In between the corn and the chooks, Fred is studying commerce at the Australian National University, and working part-time at "Parlour Wine Room" and the "Elk and Pea". (from The Canberra Times)
---
Congratulations!
---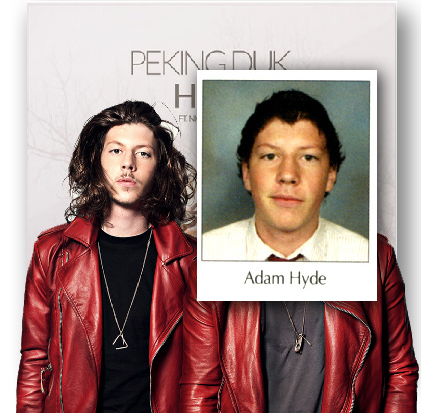 Peking Duk is red hot at the moment
Local bands Peking Duk (Adam Hyde – Class of 2008) and SAFIA took home two gongs from the APRA (Australasian Performing Right Association) Awards a few weeks back. They won "Most Played Australian Work" and "Dance Work of the Year" for Take Me Over, beating out Sia's Chandelier.
Peking Duk's 2015 collaboration shot to number 6 on the ARIA charts and placed fifth in Triple J's Hottest 100 in 2014.
---
Sweet, sticky news from the Royal Sydney Easter Show
20-year-old beekeeper Mitchell Pearce (Class of 2012) and his family business have won a gold medal for their urban honey at the 2016 Royal Easter Show. Mitchell, the director of Canberra Urban Honey, said he felt proud, and thankful to all the capital's healthy gardens, without which the honey couldn't exist. The fourth-generation apiarist said recognition on the national stage meant he could breathe a sigh of relief. "We've been really trying to strive for an exceptional honey since we started," he said.
Mr Pearce said he wanted to thank the local hive hosts, and everyone who had contributed to the company's original crowd funding campaign.
The honey comes from 50 hives – 60,000 bees apiece – in backyards and on roofs across Canberra (some sit on top of the Hotel Realm in Barton). So far none have been seen at Daramalan, but maybe next year.
(from The Canberra Times)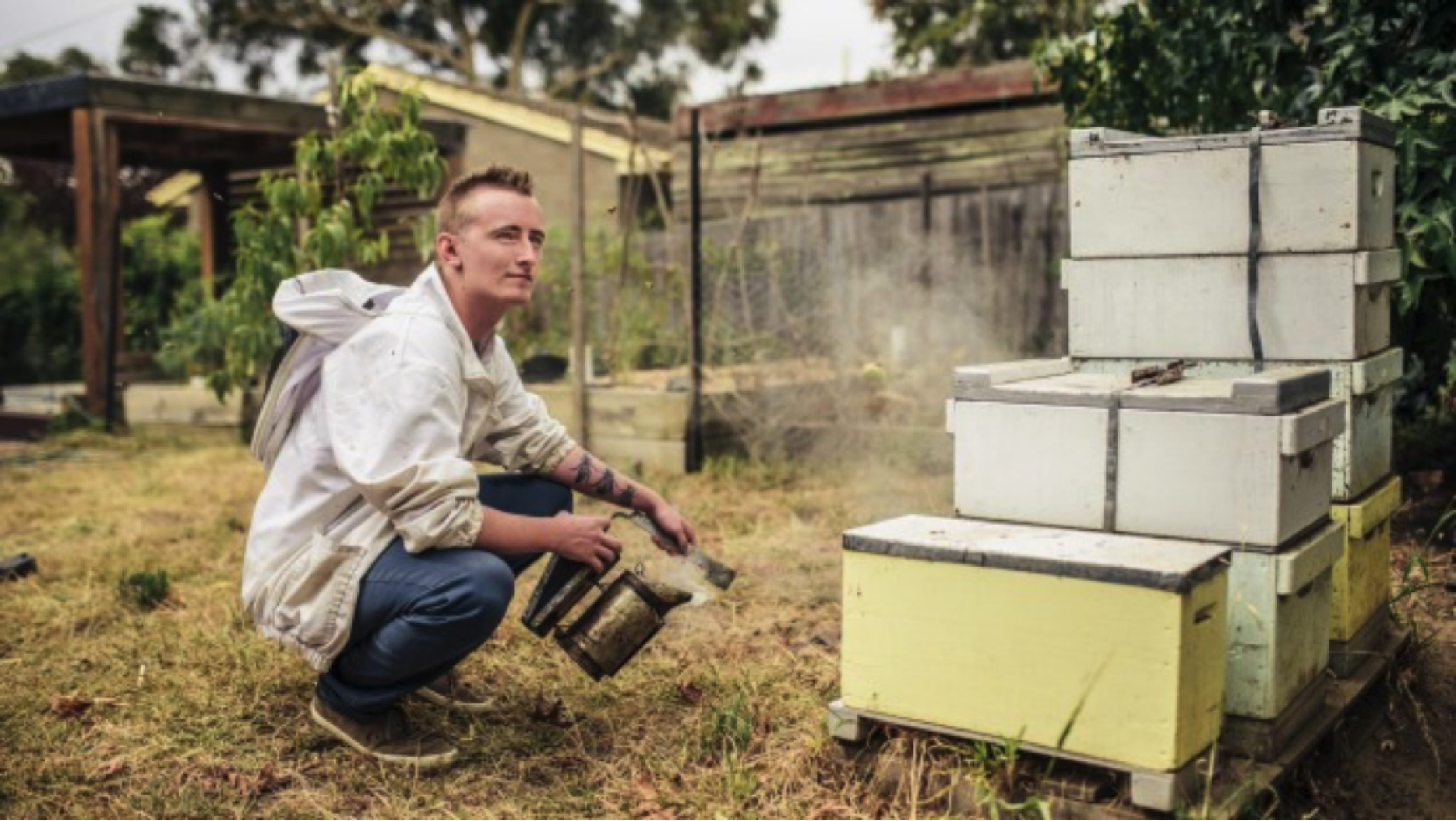 ---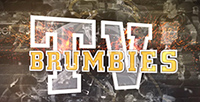 Douglas Kirk (Class of 1985) is producing/directing/editing the "Brumbies TV" show for the ONE channel. Channel 50 here in Canberra. It airs each Thursday night at 8.30pm during the footy season and covers everything "Brumbies". Highly recommended and well worth a watch.
---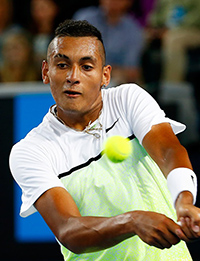 Nick Kyrgios (Class of 2012) UPDATE  28 April 2016: On his 21st birthday Nick has marched through to the quarter-finals of the Estoril Open claycourt event thanks to a hard-fought 7-6 (7-4) 7-5 win over Inigo Cervantes. It took the second-seeded Australian, who was presented with a cake to mark his 21st birthday by the tournament's ball girls, nearly an hour and 15 minutes to see off the Spaniard. He'll face Croatia's Borna Coric on Thursday (Friday Aust time) for a place in the semi-finals. We'll keep you updated.
"There are 50 things I would rather be doing on my birthday," Kyrgios said after his win.
---
Peter Campbell (Class of 1980) made it to the finals of the Tamworth Songwriter's Association Awards for "Anzac Song of the Year". The song, The Lost Soldier is here
---
Mrs Pat Smith (Teacher) celebrated her 90th birthday on Wednesday 20 April 2016. If any ex-students or fellow teachers would like to wish her well just send me an email here <bernard.kane@daramalan.act.edu.au> and I will collate them and send them on.
---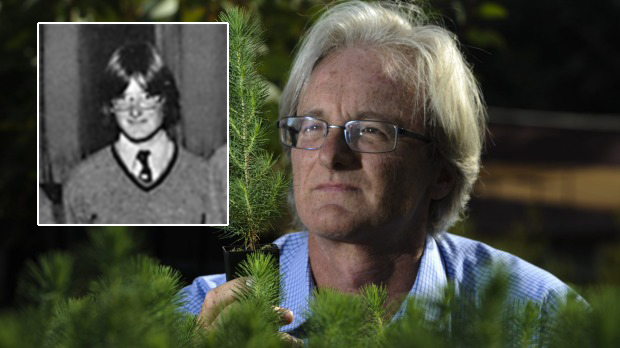 A growing career
As the general manager of the ACT government-run Yarralumla Nursery, Chris Ware (Class of 1981) oversees one of the longest-running and most historically significant propagation programs in Australia and possibly the world. He helps ensure that the legend of the Lone Pine – so significant during Anzac Day commemorations – lives on around the globe.
The Lone Pine itself is a 20 metre Aleppo pine that stands strong in the lush grounds of the Australian War Memorial. The tree is named after the scene of an August 1915 Australian battle during the Gallipoli campaign in Turkey. The Turks had cut down all but one of the trees on the ridge to cover their trenches, and at least three Australian soldiers are known to have picked up one of the scattered pine cones to bring home. Lance Corporal Benjamin Smith, whose brother was killed in the battle for the Lone Pine Ridge, sent several cones home to his mother in Inverell, NSW. She kept the cone for 13 years, until 1928, when she grew two seedlings, one of which she presented to the town of Inverell, and the other to the Department of the Interior in Canberra.
Each year, a member of Mr Ware's 35-strong team begins the process of harvesting the pine seeds by encasing the growing pine cones in a wire cage in order that the tree can "father" new seedlings. The cages protect the tiny pine nuts from cockatoos who find them delicious – which is no surprise given they are often used in Middle Eastern cooking. Since the late 1940s, these tiny seeds have been delicately collected and propagated to form new seedlings.
Between 600-800 seedlings are produced each year, meaning one tree may have given rise to as many as 50,000 others. They are then purchased by the public, most commonly to be planted by RSLs, schools, councils, war memorials, arboretums and embassies around the world. After every batch of seed is logged on a register and weighed, their future destination could be just about anywhere. Mr Ware tries to keep a watching brief on the health and wellbeing of many of his high profile trees. Others, he simply stumbles over.
"Last year I was in a park in the Nelson Bay Memorial Park in Port Stephens and said to myself 'that's one of our trees' … It looked in pretty good shape." (from The Canberra Times)
---
Daramalan News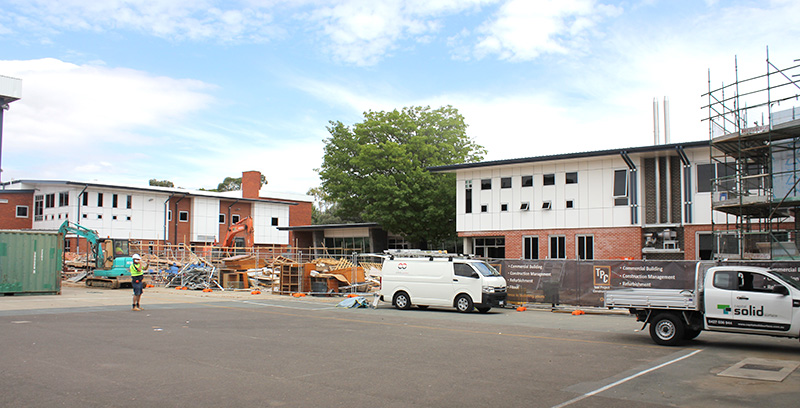 New Science Wing under construction
The new Dempsey Science Wing is now open and running with students with just the landscaping to finish. It should be totally finished in August 2017.
---
(Feb 2017) We sadly miss…
Tony Brighton (Class of 1974)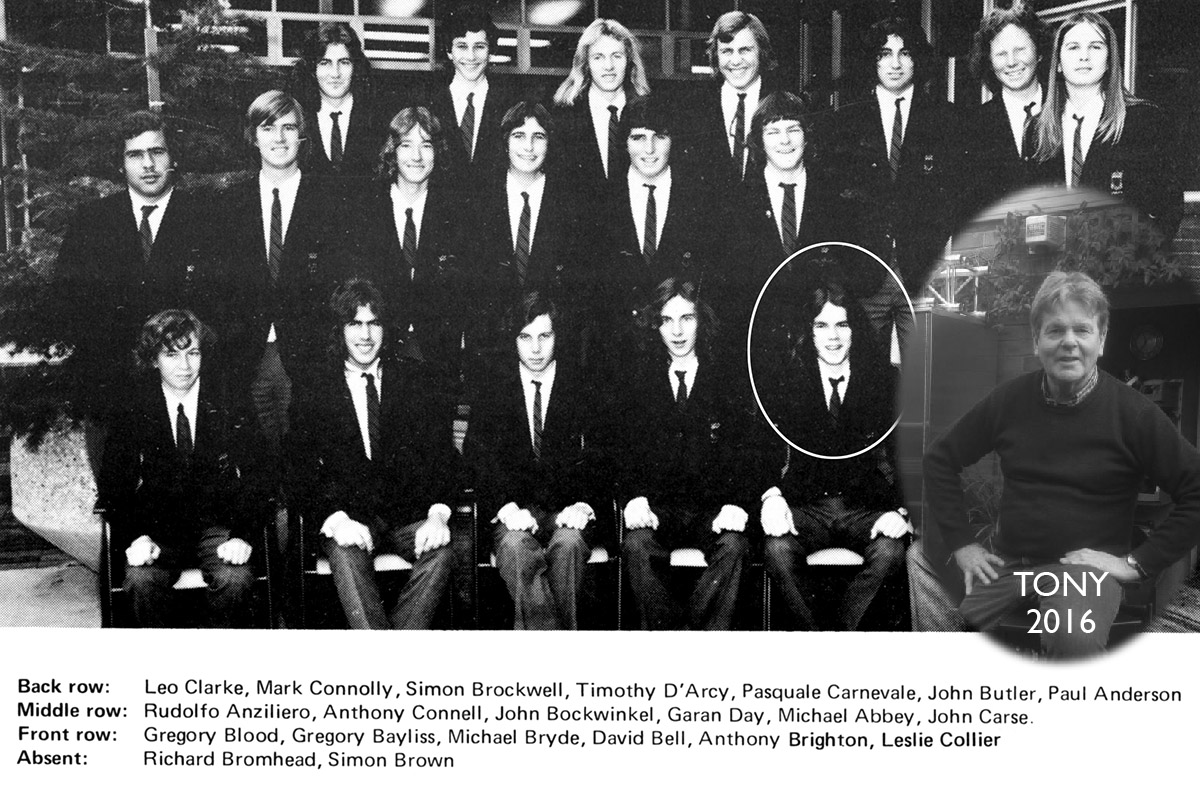 Sadly, another of our ex-students has passed away far too young. Tony Brighton from the Class of 1974 died unexpectedly earlier this week, 11 May. Tony was a well respected and much loved member of the local live music production industry and his death has been a great shock to his many friends and associates in the industry.
At the moment there are plans for a wake to be held for him at Tilleys in O'Connor next Friday 20 May. Everyone is invited.
Please keep his son Ben and family in your prayers
---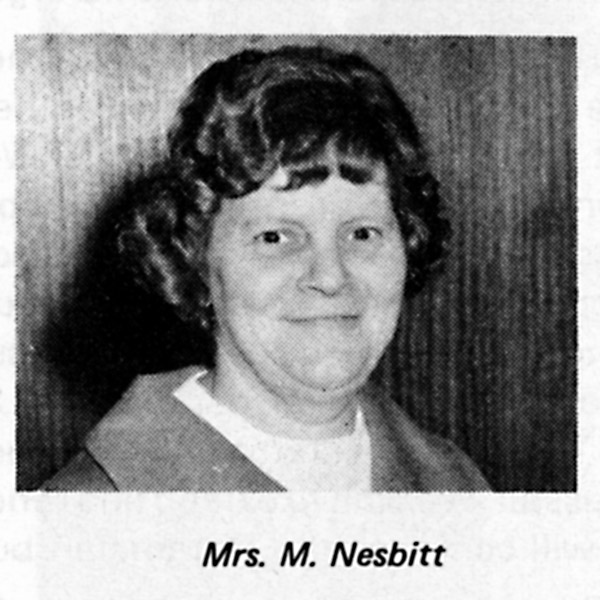 Mrs Nesbitt in 1969
Teacher

 Mrs Myfanwy Nesbitt
Many students from Dara's early years no doubt remember one of Daramalan's great teachers Mrs Myfanwy Nesbitt. Sadly, she passed away late March at the age of 91. She was a very well respected and skilled teacher who ended up as Head of the Geography Dept. as well as teaching Social Sciences. Several ex-students shared their lovely memories of Mrs Nesbitt including;
Michael Szabo:

Oh that's so sad!
Mrs Nesbitt was one of my favourite teachers during my 4 years at Daramalan and one of my inspirations to become a Geography teacher in later life. In fact, give me a map and I'm in bliss! Go figure! Years after she taught me at Dara I got to be a fellow colleague with her at Alfred Deakin High School, again, you guessed it, teaching the modern equivalent of Geography.
She was always an intelligent lady with a lovely caring manner who sought to get the best from all her students, even the naughty ones targetting learning to the special needs of those students. At that stage she was no longer Mrs Nesbitt but Myf, and a dear professional colleague.
While we use the cliche that she's had a good innings at 91, really any passing is difficult. Still it gives us all pause to consider that person's contribution to one's own life and more broadly to the community in general. She certainly has had a big impact on many, including me. I know she'll be well missed and mourned. Hopefully she'll be resting peacefully in a beautiful Welsh valley, reflecting on her time on this planet and the joy she's brought to many people's lives.
Vale Myf! I thank you for your positive impact on me. I will miss you and your wit.

from Fr John George (Taught at Daramalan in the early 60s)

Mrs Nesbitt in 1 Gold called on me in 1 Silver to restore order in her class. Having done that I returned to chaotic 1 SILVER – WHAT A DAY!
She was a good friend, quiet, friendly, reserved and ever happy.
Rest her soul!

from Tim Smyth:

Sorry to hear this, I remember her well as my geography teacher heading up to the School Certificate in 1968.

from Simon Brown:

I had Mrs Nesbitt for Geography. She terrified me when I was 10 years old, but she was a good teacher and helped get me through the subject with flying colours.

 from Chris McAppion:

As good luck would have it I was walking through Belconnen Mall a while back ( maybe a couple of years ) and I saw Mrs Nesbitt sitting on a bench waiting for someone. I would have picked her out anywhere – she really hadn't changed much, just older. My academic endeavours in her class were unspectacular and she didn't remember me but did have a chat about Geography and schooling at Daramalan back in the 1960's and 70's. We sat together for the best part of 10 minutes and I thanked her for her efforts helping me along the way. So glad I did.
---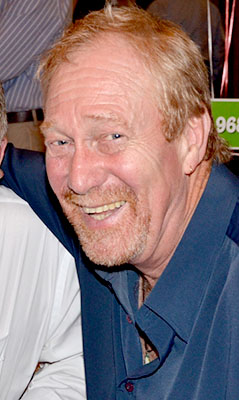 Dara's Number 1 student dies in motorcycle accident.
Kevin Abbey (Class of 1968) sustained serious injuries on the Hume Highway after being thrown from his motorcycle. He was airlifted to Canberra Hospital, however he died on route. He was just 65 years old. Kevin held a special place within the Daramalan family because out of roughly 16,000 ex-students who have passed through the school, Kevin was student Number 1, enrolling in 1962. His brother Peter was student number 2.
I received some lovely feedback from his mates that I would like to share with you:
From Dominic Billerwell:

Thanks for the message about Kevin Abbey. Kevin and I spent many hours at his house (just a short distance from the school) during our lunch breaks. We would often have a smoke. I haven't seen him since 1964 but occasionally think of him and his brother.

From Mike Backhouse:

Shocking news indeed. Made all the worse that it was an accident and that he went before his time. I was the year behind Kevin (1969) but many of us looked up to him as a musician and he played in several bands while we were at school. Got to meet him several times over the years and talked music.

From Fr Charles Balnaves:

Tragic. I shall keep Kevin and family in my prayers especially. Regards and God bless,

From Bernard Wright:

Terrible news indeed – poor Kevin and his family

From John Martin:

Thank you for the news about Kevin. Very sad to lose such a friendly classmate. We'll keep him and the family in our prayers.

God bless.

From Jonathan Willoughby-Thomas:

All very sad.

From Geoff Short:

I well remember Kevin as one of "the big kids" and, particularly, his very sexy push bike which, unlike my daggy second-hand jobby, was new and had gears!

---
Our prayers go out to the Nesbitt and Abbey families.
---
From previous editions…
Click here to download  the Br Dave Merrick book on his years as an MSC
Click here to download the February 2016 Alumni Newsletter