Parents & Friends Association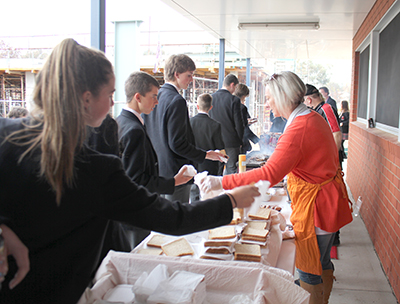 The Parents and Friends Association is quite different to what parents may have experienced at their child's primary school. The Daramalan P&F provides an opportunity for involvement in the life of the College and contribution to the school community.
The P&F manage the operation of the College Canteen and the Uniform Shop. The P&F also provide a forum for parents to share their views on various matters.
The 2023 P&F committee consists of:
President – Mrs Rachael Axford
Vice President – Mrs Amanda Curran
Treasurer –

Mr

Charl

es

S

tephenson

Secretary – Ms Sandra Fisher
APFACTS representative –

Mr

Stephen Dunkerley
The P&F meet at least once each term and communication between meetings is via email.
2023 Meetings
AGM Wednesday March 15 – 6:30pm
Wednesday May 10 – 6:30pm
Wednesday August 9 – 6:30pm
Wednesday November 1 – 6:30pm
Everyone is welcome at all meetings. For further enquiries please contact pandf@daramalan.act.edu.au
How can you participate?
Attend P&F meetings
Contribute to the decisions about how to spend the P&F levy. The P&F directs its funds towards special projects within the College. Recent projects have been the purchase of a new 24 seater bus, and more recently a contribution to the College's DVD Classroom System. In recent years P&F funds were used to assist in the building of a new canteen for students and other capital projects.
Volunteer to help on Sacred Heart Day
Volunteer to help at the Charity Walk
The annual fundraising activity of the P&F was, until 2007, the annual walk by the students around Canberra's Lake Burley Griffin which raised money by individual sponsorships of each student. This fundraising method has now been replaced by a levy within the school fees for the Parents and Friends.
In 2008, the Kilothon – as the walk was called – was still a P&F activity but all the proceeds were donated to charity. The Catholic charities "Caritas" and the "St Vincent de Paul Society" have been the recipients from 2008 onwards.