2019 Alumni news
DARAMALAN 2019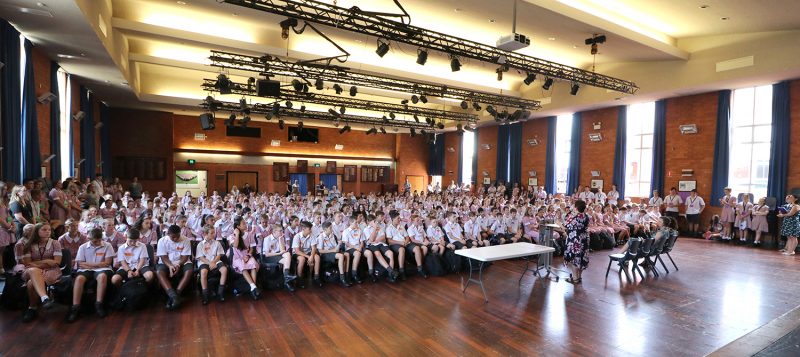 Well, the new school year started two weeks ago with over 1400 students enrolled across all six years.
The school has completed the building program that has been going in one form or another since 2002 with the completion of the Fulton Administration Wing finishing with the Dempsey Science Wing last year. Even all the landscaping is just about over.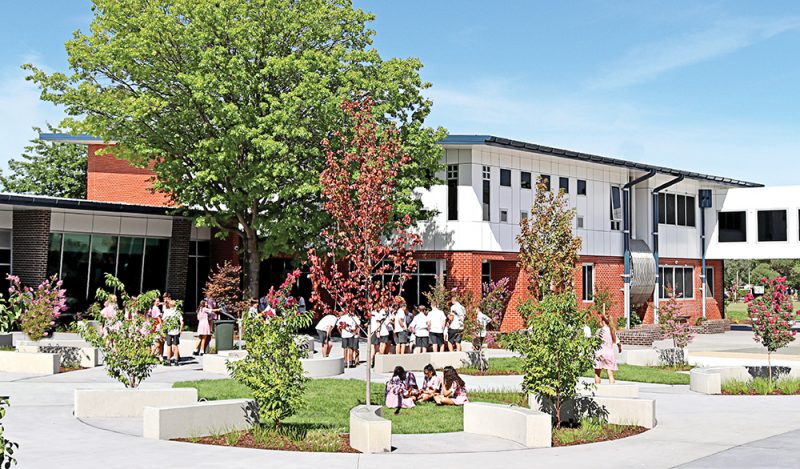 One final project is a new fence which is nearing completion. (Fence photo coming…). We've had the  same fence since the 70's, which was both no deterrent to students hopping over it to cross the drain as a short cut to Dickson, nor to keep out the dogs and aspiring golfers practicing their pitching. Hence a new fence.
---
MSC AT DARAMALAN
AS mentioned in the last Newsletter, Br Barry Smith MSC finished up at Dara last July and is now at Douglas Park in the Southern Highlands running the MSC facilities up. That only leaves just three MSC in the Residence from a peak of around 35 in the late 60s.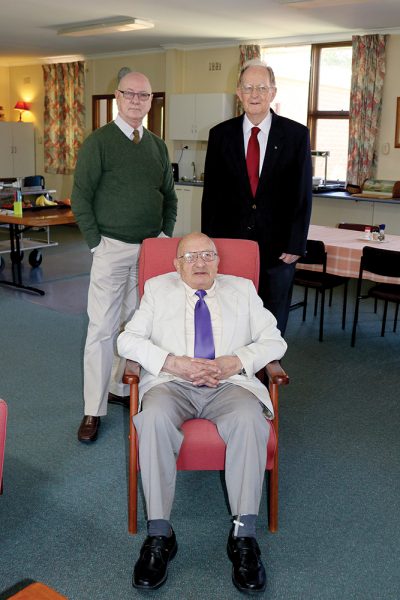 They comprise Fr Harold Baker MSC, who is now in his mid 90s and Fr Jim Littleton MSC  turning 89 this month. Both are in reasonable health and let's hope it stays that way. Br John Walker MSC makes up the third member of the Community.  However Kippax is a MSC Parish and we are lucky to have Fr Kimi from the Parish visit the College for a day every week to reinforce the MSC ethos.
---
MRS JEAN REID VISIT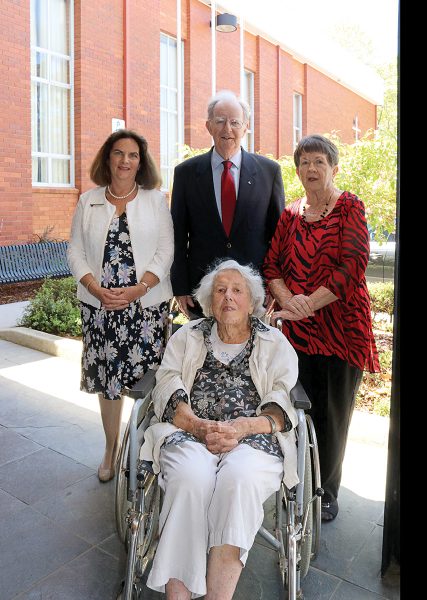 There have been so many ex-Daramalan students over the years that have been touched in some way by Mrs Jean Reid who taught here from 1962 until the early 80s. She is still alive and kicking at a very sprightly 103-years-old and on Chevalier Day last year, she returned to the school for a visit, along with Mrs Mary Barton (nee Donnelly) pictured right with Jean, seated, and Principal Rita Daniels and Fr Jim Littleton MSC.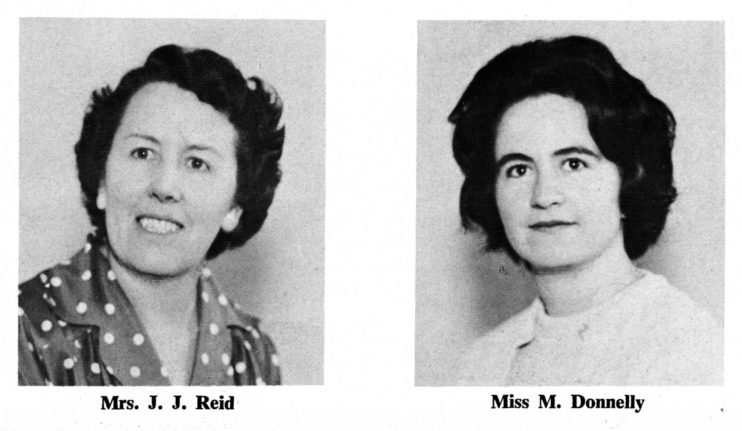 Both Jean and Mary commenced work in February 1962 as the only two female teachers at Daramalan which was, at the time, an all-boys school. Both went on to initiate and develop what is now the Inclusive Education Team and countless students have these two wonderful ladies to thank for, in part, who they have become today.
---
DEPARTURES IN 2018.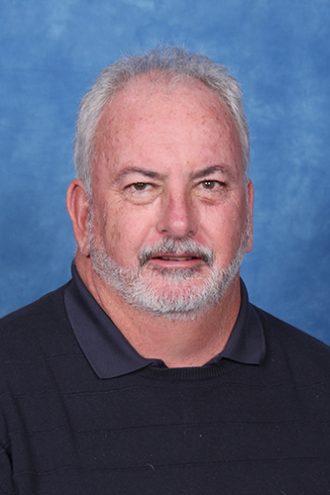 We all remember Mick Flynn (Class of 1975) don't we? A teaching stalwart of the College since the early 80s, Mick is most closely associated with his long and dedicated involvement in Daramalan Basketball.
Mick is currently on Long Service leave and will be finishing up in June. If you'd like to say "goodbye" to him, email me at bernard.kane@daramalan.act.edu.au and I'll compile your responses and send them on to him. He will also be at the Class Reunions later this year. More Reunion details later on this page.
---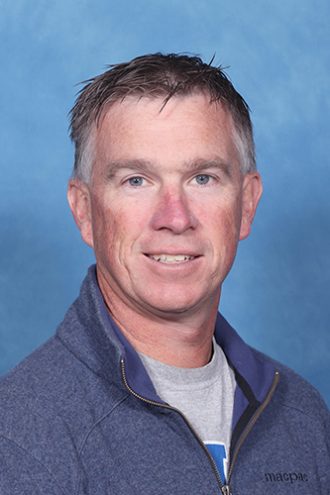 While we are on sport, Mike Brady (right) finished at the College last December. He had been here for 24 years and was most well-known for his passion and time spent with the rowing program. He will be missed.
---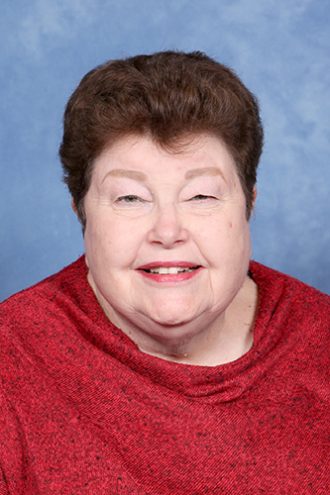 Mrs Jan Dudley from the Information Centre also retired in 2018. She had led the Library since the 80s and many students will best remember her for the creative and engaging activities during Book Week.
---
Mr Ian Garrity (Class of 1990) has resigned from Dara to take up the position as Deputy Principal at St Eddies. Ian has spent most of his life at Dara both as a student and teacher.
---
2018 REUNIONS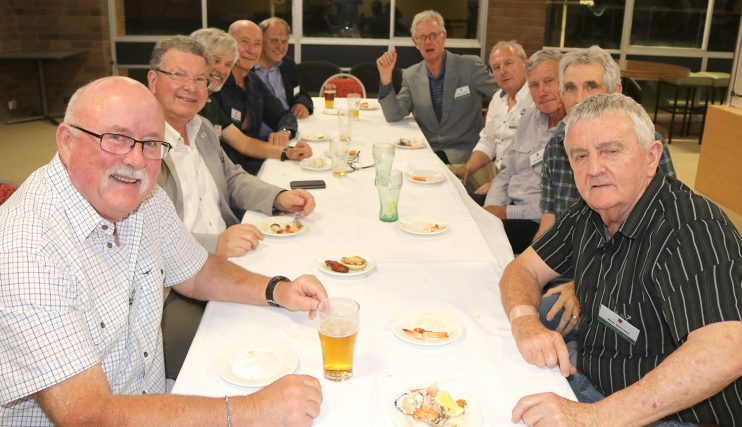 There were five Reunions held last year namely the Classes of 1968, '78, '88, '98 and 2008. It was great to see so many people come along and share the memories. We only had about a dozen from 1968 (pictured above) but it was all about the quality not quantity from 50 years ago.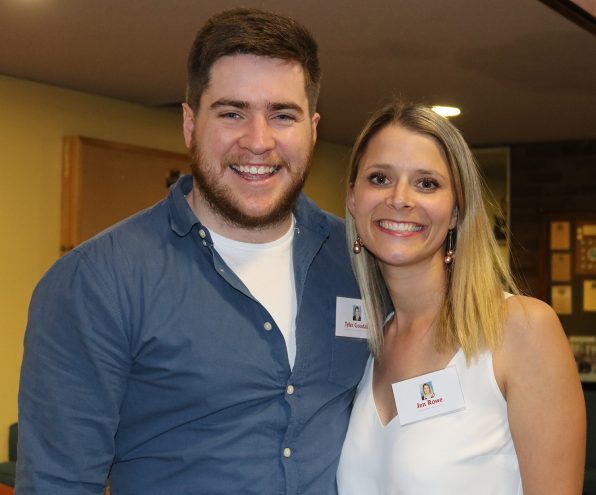 Both Captains from 2008 made the trip to Canberra. Tyler Goodall, who is currently studying to be a surgeon in Melbourne came up and Jen Rowe, now a teacher herself, came down from Brisbane.
---
 2019 REUNIONS.
So that leads me onto Reunions for 2019. We will again have Events for all our "…9" years namely 1969, '79, '89, 99 and 2009. They will be held over weekends from late October to early November. When I have firm details I will post the information on this web site as well as full details on the Alumni Facebook page.
Which is a nice segue to a plug for this ubiquitous social media site. We currently have around 3000 followers on Facebook and that is where I post ex-student doings on a weekly basis. So, if you are a child of the permanently-connected generation then you'll most like already be on Facebook, but if not then it's well worth checking it out. The address is https://www.facebook.com/daramalanalumni/
---
DARAMALAN YEARBOOKS
We are currently storing many duplicate copies of Daramalan Yearbooks from 1962 onwards. Some years we have heaps, others…well, not so many. So, if you would like a copy of a particular year to complete your collection, or whatever, let me know and you are free to come and pick it up. I can't post them unfortunately but you are welcome to pick it up from Reception at the College. Contact is bernard.kane@daramalan.act.edu.au
While we are on Yearbooks, I am currently in the process of scanning every book to create digital and searchable files you can all access. Like the National Library's Trove. When this is finished you will be able to log on and search for a name, date or event from the last 57 years. I will post up the address when this project is completed.
---
TEACHER MEL CLARKE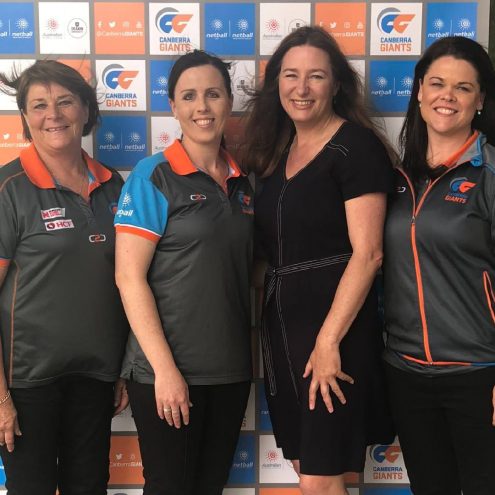 Many of our recent netball-playing students will remember teacher Mel Clarke pictured second from left, who is still heavily involved in the sport here at the College. It is a great feather in her cap as she has been appointed as the 2019 coach of the Canberra Giants in the Australian Netball League. Incidentally, Mel is the daughter of ex-student Leo Clarke (1974).
---
EX-TEACHER PAULA ROBINSON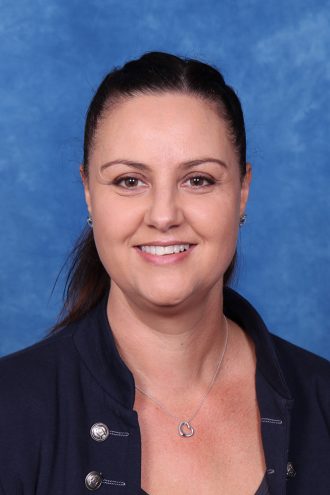 Most students from 2009 onwards will remember teacher Paula Robinson. Paula worked at Daramalan as a teacher from 2009 until the end of 2017.  During this time, she taught Hospitality and Food Technology and was also the Careers Advisor for a large part of this time.  At the beginning of 2018, Paula, and her family, moved up north to the Sunshine Coast for a lifestyle change.
Unfortunately, at the end of last year, Paula was diagnosed with malignant breast cancer (Invasive Ductal Carcinoma).  She has commenced intensive chemotherapy which will be followed by radiotherapy therapy, and depending on how things go, quite likely a mastectomy.  Adding to this particularly difficult time is the reality that Paula is now unable to work while she deals with the chemo treatment.
Some of Paula's friends who still work at Daramalan are organising a Trivia Night to raise funds for Paula to assist in easing the financial pressure faced during this difficult time.
If you would like to support Paula, how about coming along to the Night. We have tables of 8 and it is being held here at the school Friday 22 March. So not only are you helping a very worthy cause, and having a great time while doing it, but you'll also get to have a quick look around your old haunts and drool over all the new things that weren't here when you were here! J
Bookings are here https://www.trybooking.com/473993 and cost just $30. This includes wood-fired pizza dinner from Jacko's Pizza, himself an ex-student. Get your table together now!
But if you can't make it on the night ,maybe consider the donation of a raffle prize?  If you are able to help in this area, please contact Jane Waddleton at jane.waddleton@daramalan.act.edu.au
If you have any queries about the event, please contact Carlie Dwyer carlie.dwyer@daramalan.act.edu.au
---
 VALE DARAMALAN ALUMNI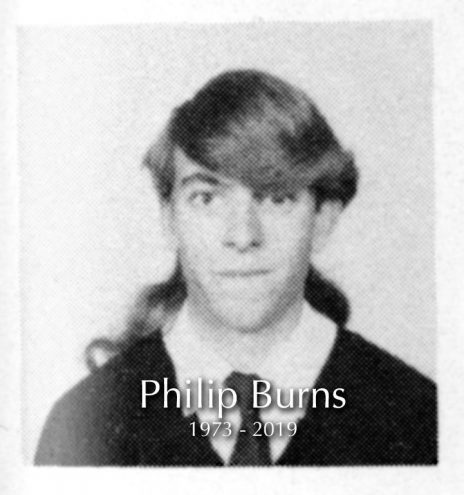 Phil Burns (1991) passed suddenly away on the 18th of January here in Canberra. The funeral was at the Holy Spirit Catholic Church in Amaroo. RIP Phil.
---
Emma Thorpe (née Widdicombe) 2001, passed away in August last year after a long brave battle with cystic fibrosis. She was married to another Daramalan ex-student Brendan Thorpe (1996). Our thoughts and prayers go out to Brendan and all Emma's family. If you'd like to help in the fight against this insidious disease you can donate here: https://www.cysticfibrosis.org.au/donate
---
Last November former Canberra Magistrate and Coroner Shane Madden died of a heart attack. He was just 73. Shane was the father of David (1993), Peter (1994) and Phillip (1997). David was school Captain in 1993.
An immensely respected man, Andrew Leigh MP delivered this tribute in the House of Representatives immediately after Shane's funeral.
"Shane Madden was one of Canberra's finest lawyers. He was part of the senior leadership team when the ACT Department of Public Prosecutions was formed under Ken Crispin in 1991.
He served as a magistrate from 1996 until 2009. He was the coroner who conducted the 118-day inquest into the tragic death of schoolgirl Katie Bender, who was killed in 1997 by the implosion of the Royal Canberra Hospital. It has been commented that his conduct throughout the trial demonstrated his humanity and decency. He was the ACT's first Children's Court Magistrate, serving from 1999 with compassion and care.
I came to know Shane Madden through my friend David Madden, his son. Shane always struck me as gentle and generous, and never shy about coming forward with his views about politics in Canberra as a long-time resident of the north side. In giving the eulogy for his father at the Sacred Heart parish in Moruya on Saturday, David spoke about Shane's commitment to service, saying, 'Service was at the heart of Dad's life.'
Shane Madden was a life member of the ACT Brumbies. He was an ACT rugby referee in more than 300 games.
David said: 'I can remember as a child wandering into the kitchen late on Sunday nights before Dad had a trial and seeing him once again poring over evidence, double-and triple-checking his notes, making sure he did the best job he possibly could. Dad brought that commitment to everything he did, whether it was hearing a big case; giving a speech at the Rotary Club of Moruya; or caring for his sister, who struggled with mental illness her whole life. Dad did things properly.'
Those in Canberra were lucky to have benefited from Shane's service. My heart goes out to his widow, Katie, his wife of 47 years; to his children, David, Peter and Philip; to his children-in-law, Andrea, Nicole and Amy; and to his grandchildren, Kahlea, Isabelle, Jacinta, Raphael, Jessica, Elianna, Stephanie, Alexander, William and Georgina."
Our sympathies go out to all the Madden family. We have lost a great man.
---
WHO'S BEEN DOING WHAT – EX-STUDENTS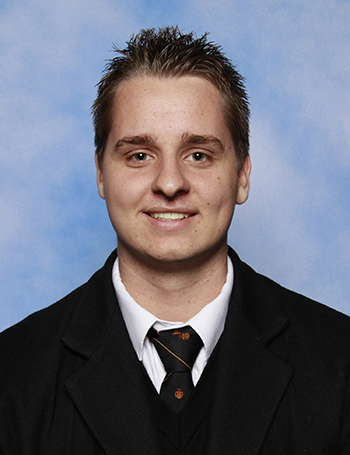 Josip Simunic (2011) last month was offered a contract of employment with Google in the States. A great testament for Canberra and Daramalan talent.
---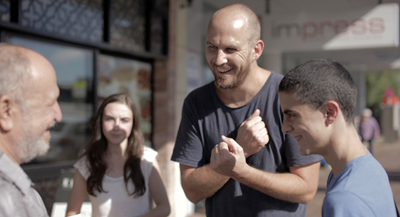 Stuart O'Rourke (1993) is a Director/Producer and Writer working on a variety of projects since leaving Daramalan. He started his career in London in 2000 working as a Production Assistant on the drama series POIROT then back to Oz with Crackerjack Productions as a TV editor, including 3 seasons of the sketch comedy series Comedy Inc for Channel 9.
His most recent projects have been with SBS, Discovery Channel and "Aussie Lobster Men" currently showing on Channel 7.
---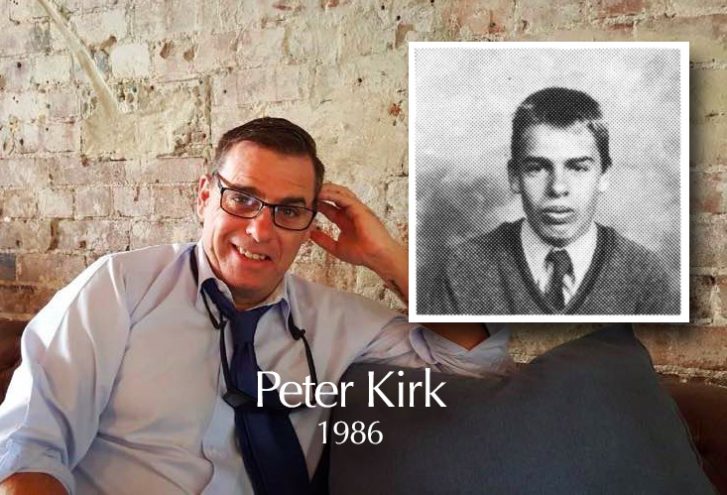 While we are on media personalities Peter Kirk (1986) is a multi-award-winning producer of content, as well as a screen writer and film and commercial director. He has worked with globally recognized brands such as Lynx, Google and Greenpeace in countries including Thailand, Philippines, Brazil, USA, London and Japan. He is the recipient of 3 Webby awards as well as countless AIMA and W3 awards.
His company Pluto Media, a content platform that operates in Sydney, Auckland and Los Angeles, recently teamed up with The Communications Council to create the AWARD School Indigenous Scholarship Program which offers six scholarships to the AWARD School for Indigenous students to encourage more Indigenous people into the advertising and media industry.
A hugely worthwhile commitment and we wish Peter all the best with both this passion as well his flourishing film career.
Peter is featured on Wikipedia at https://en.wikipedia.org/wiki/Peter_Kirk_(director)
---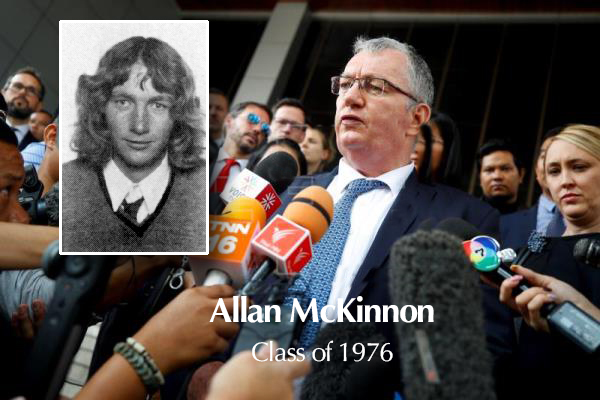 When Australian soccer player Hakeem al-Araibi was arrested last November in Bangkok on suspicion of vandalising a police station, and consequently fighting deportation to Bahrain, who was the first person he asked for? An ex-Daramalan student of course. Australia's ambassador in Thailand is Allan McKinnon (1976) who was appointed to the role late last year. Luckily Hakeem had the best man on his side and Hakeem was released and came back to Australia two weeks ago. Thanks Al.
---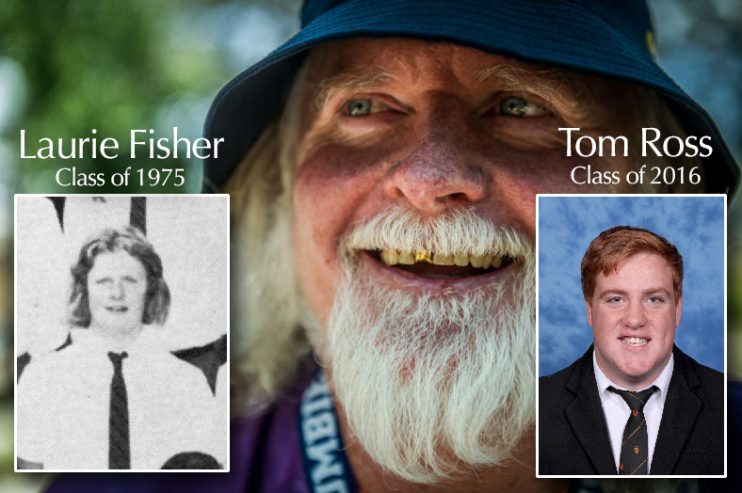 The "Canberra Times" featured a really nice story on Laurie Fisher (1976) who has been the Brumbies coach on and off for nearly 20 years and in 2019 he's back with the Brumbies as Assistant Coach. Their first exhibition match was at Goulburn on the 7thof Feb, which also featured ex-Dara boy Tom Ross's (2016) first outing with the Brumbies this season. Tom went on to score a well-deserved try.
---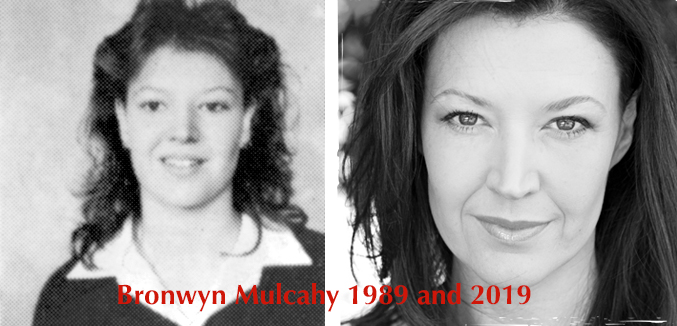 On the subject of sport earlier this year saw the first Test Match played at Manuka Oval (which we won incidentally if you don't follow cricket). However the highlight of this major event was the National Anthem performance by our own Bronwyn Mulcahy (1989).
Since leaving Daramalan Bronwyn has gone on to feature in a broad range of creative arenas including in the German production of "Cats" as well a myriad of Australian productions.
She performed alongside Elaine Page in "The Music of Andrew Lloyd Webber" and toured Australia with Anthony Warlow, INXS, Kate Ceberano and David Essex.
She has also written songs for the Australian Olympic committee and most recently recorded two pieces for the feature film "Surviving Georgia".
However, all that surely pales in comparison to kicking off an Aus v Sri Lanka Test Match at Manuka. Life doesn't get much better for a Dara girl!
---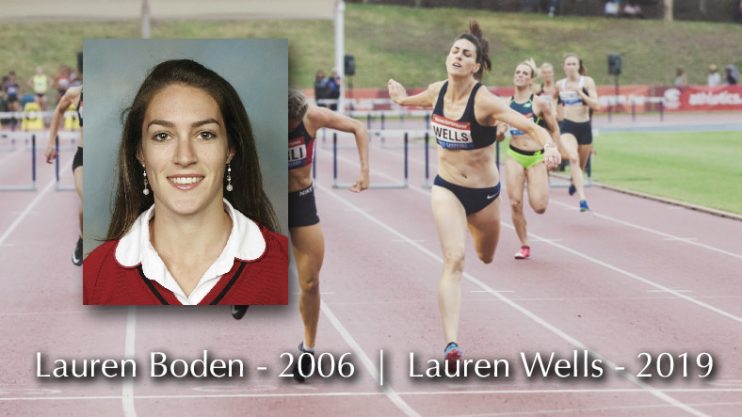 Lauren Boden – now Wells, (2006), looks like being back in the running for the 2020 Olympics in Tokyo. Early February she competed in the Canberra Track Classic and ran the 400m Hurdles in a world championship qualifying time of 55.72 which sets her up for her third Olympic Games. Lauren, who is now a teacher, thought her international career might be over but she may have changed her mind. Let's hope so.
---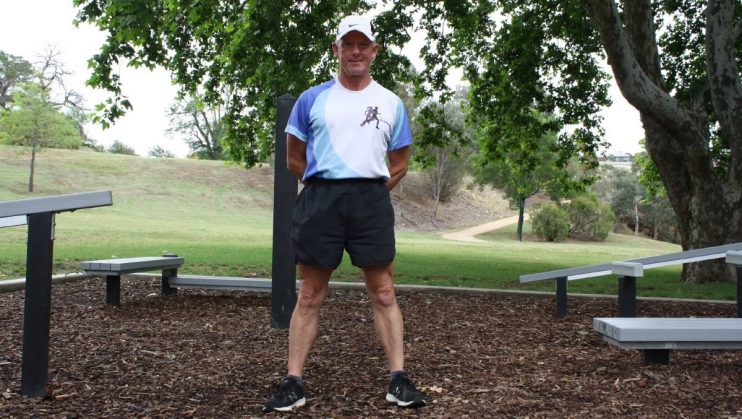 Late last year, ex-student David Ault (1972) was diagnosed with prostate cancer. Consequently, in early 2018, he had "radical robotic prostate surgery" which sounds scary but apparently it worked. So, to help raise awareness of this "bloke's cancer" he has been out there running. (Just like Forrest Gump – but without the beard). Since his operation, David has completed six half marathons, two 30km trails and one full marathon, the earliest of which was just two months after he went under the knife.
Starting on 13 January, David is now running around Australia as part of the "Around Australia Marathons 2019" a very worthy cause to raise cancer awareness. If you'd like to support David his FB page is here:
https://www.facebook.com/Around-Australia-Marathons-2019-David-Ault-260958127923039/
As Forrest would say," That day, for no particular reason, I decided to go for a little run." Good luck David!
---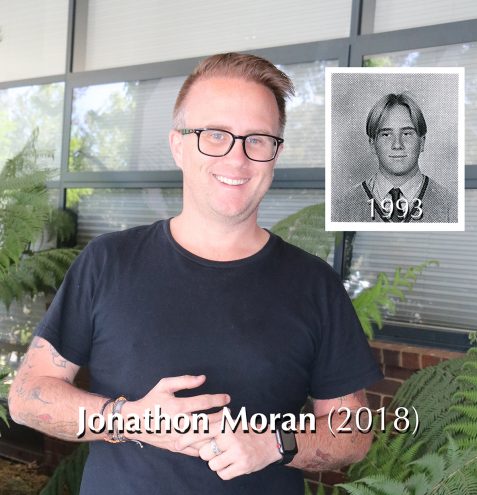 If you want to know what's happening in the entertainment world, the current #1 authority in Australia is ex-Dara student Jonathon Moran (1995) from the "Daily Telegraph" and "Sunday Telegraph".
So rather than me give you all the goss', I'll let Jonathon's publicity machine – or J.Mo as he is affectionately known – take over: "J.Mo is Australia's authority on all things entertainment – from music to film, tv, celebrities in general and everything in between. J.Mo breaks celebrity stories daily and has interviewed the world's biggest stars, from Coldplay to One Direction, Pink, Beyonce, Madonna, Lady GaGa and Katy Perry. J.Mo is co-host of the top rating national radio show, "Confidential" on Nova. He is also a weekly regular on Channel Ten's Studio 10 and has appeared on shows including Seven's "The Morning Show" and "The Daily Edition", "The Bachelorette", "A Current Affair", "Sunrise" and "Today".
So there you go – didn't know that did you?
---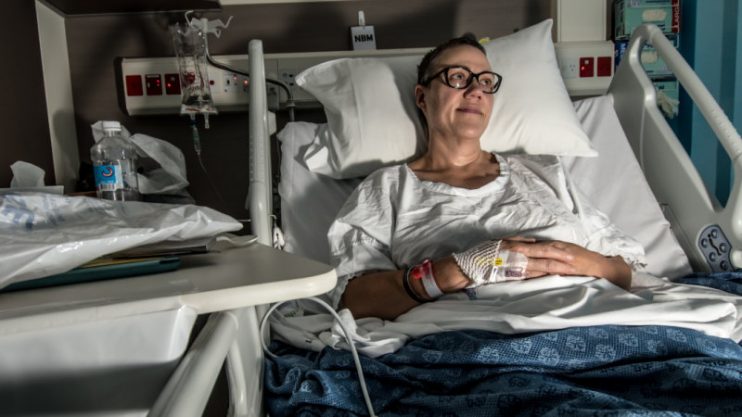 Ex-student Brenda Croft (1981) finished 2018 in a very bad way. Firstly, her storage unit in Belconnen was broken into with her losing many irreplaceable items, including some of her own award-winning artworks. And then, to make matters worse, on her way home after discovering the break-in, she fell and broke her hip resulting in her hospitalisation for two weeks. Let's hope 2019 is kinder to her.
---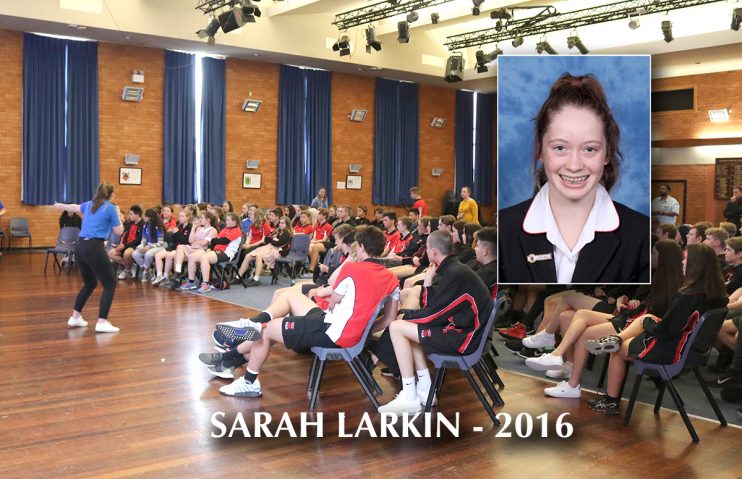 As part of the College's on-going commitment of engaging with ex-students, Sarah Larkin (2016 School Captain) returned to Daramalan last  December to talk to the Year 9 classes.
Sarah is currently studying Nursing and Paramedicine at ACU and part of her involvement with the Uni is working as a Youth Minister for the Archdiocese. In this capacity she travels around Australian and International schools running Retreats for both students and teachers alike. She has just returned from Darwin and is hoping for her next gig to be somewhere in Africa.
Graduating in 2020 she is hoping to work as an ambulance paramedic in the ACT. Let's hope we never need to meet her in a professional capacity but great to have her back.
---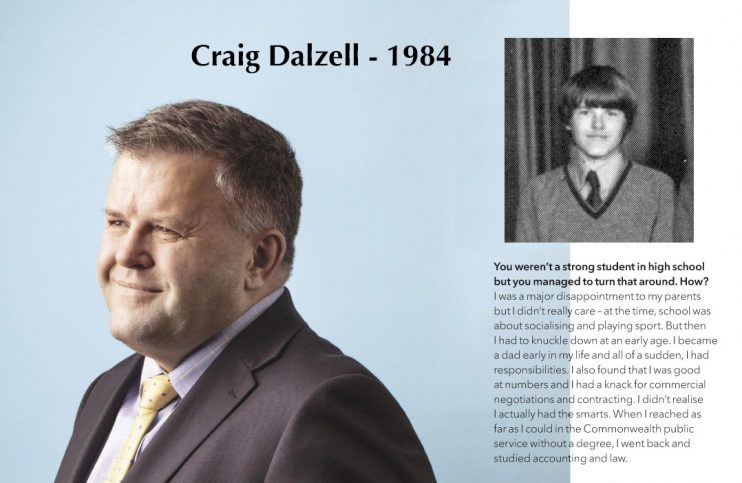 The September edition of the Qantas inflight magazine featured Craig Dalzell (1984). Craig is now the Chief Executive Officer for Allianze Worldwide partners (Google it) and was interviewed for the magazine about being a "high flyer". (Good one Qantas!)
Anyway, Craig talks about his Daramalan school life especially about not being the "best student" while he was here, then having a child at 20 and now 34 years and six kids later, heading up a major world-wide corporation. There's hope for all of us yet.
---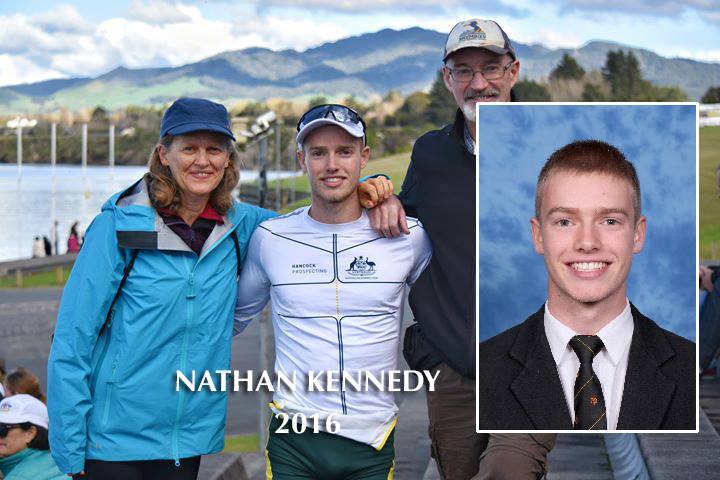 Nathan Kennedy (2016) is now considered one of Australia's top U/21 rowers with his men's quadruple scull team representing Australia at the 2018 AUS v NZ v CAN Rowing Tri-Series on Lake Karapiro, Cambridge, New Zealand. Needless to say, we won! Congratulations Nathan!
---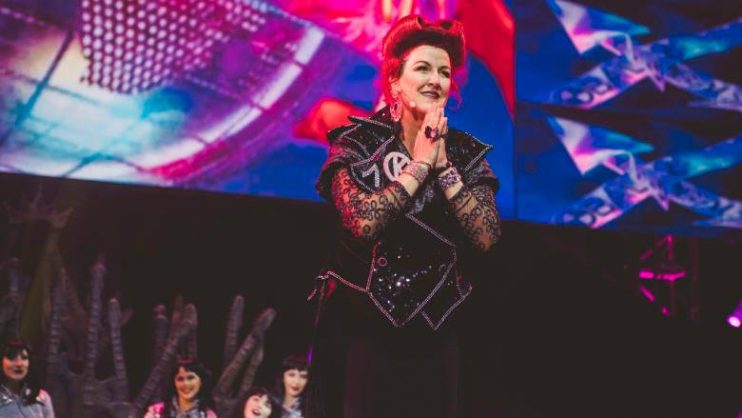 Queenie van de Zandt (1988) brought the role of the evil "Killer Queen" alive in the smash hit musical "We Will Rock You", which played at the AIS Arena late last year. With music by "Queen", our Queenie played a key role in the international spectacle. Great work Queenie!
---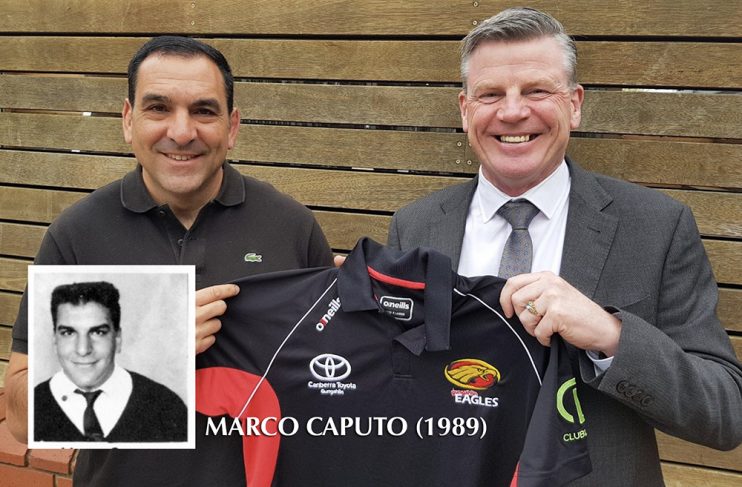 Marco Caputo (1989)  is back "home" as the Gungahlin Eagles First-Grade Head Coach for this year's rugby season.
Marco's career in rugby as a player and coach is highlighted by his Wallabies debut in 1996 against Wales in Brisbane as a Hooker, and subsequent four matches in the famous gold jersey playing for Australia.
As a coach, Marco has experienced all levels of rugby in every corner of the globe. He is the assistant coach of the Canberra Vikings, and has already had a great influence on Eagles star players and ex-Dara boys Tom Ross and Mack Hansen (both 2016).
Marco was the Eagles head coach in 2009 and 2010, and has since been involved with the ACT Brumbies, Hashimoto Mitsubishi in Japan, Leinster Rugby in Dublin, the Tonga Rugby International World Cup team and the Kobelco Steelers in Japan.
Eagles Club President Eoghan O'Byrne, himself a father of three rugby boys at Daramalan, is seen here congratulating Marco on his appointment.
---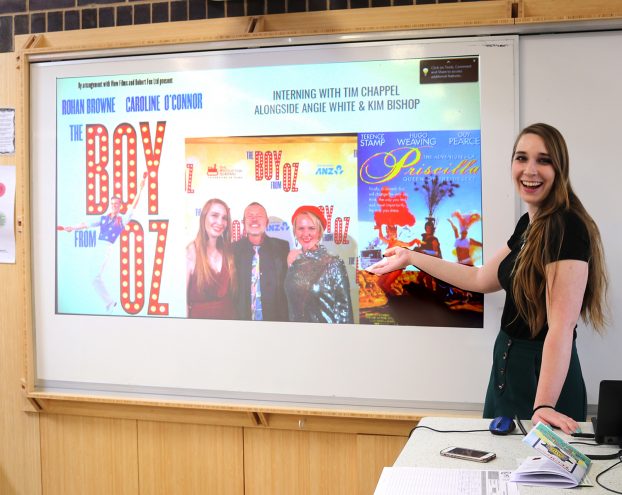 Eliza McAlister (2013) and daughter of Dara teacher Fran McAlister, has just completed her fashion internship working with Tim Chappel. Tim, who won an Academy Award for his costumes in "The Adventures of Priscilla Queen of the Desert", worked with Eliza preparing the costumes for the recent stage production of "The Boy from Oz" at the Arts Centre Melbourne.
---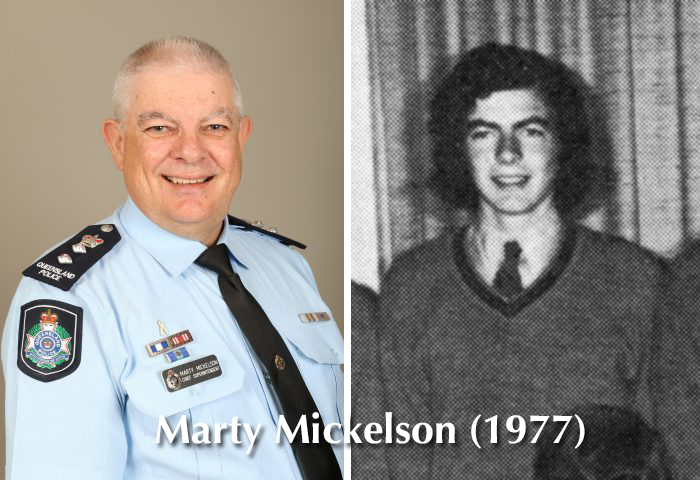 Marty Mickelson (1977) was recently appointed as Queensland Police's Acting Assistant Commissioner. Well done Marty.
---
AFL/DARA CONNECTIONS. You no doubt know that Collingwood's coach Nathan Buckley (1989) is ex-Dara, as is Shaun Smith (1986) who played over 100 games for North Melbourne and then Melbourne, and now his son Joel is following in his footsteps at Melbourne FC this year.
Ivan Soldo (2013) plays for Richmond and Hannah Dunn (2009) is with the GWS Women's League.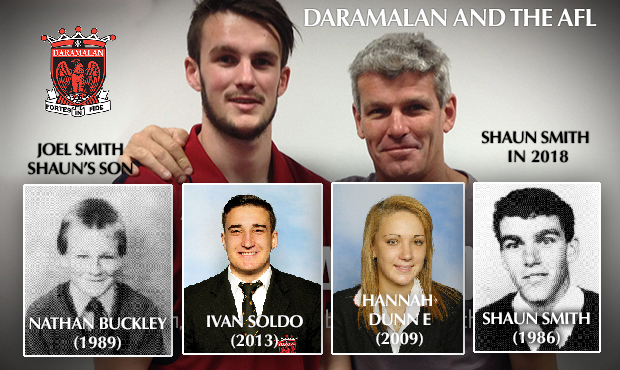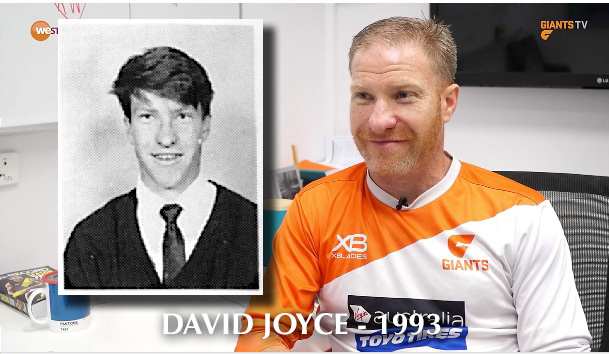 David Joyce (1993) is the Head of Athletic Performance at the Giants.
At a local level, Cameron Bernasconi (2010) works as the Talent and Coaching Program Manager and Amy Dwyer (2017) pictured below, is the Development Coordinator for AFL Canberra. Amy also won the 2018 Essendon Women's Network Emerging Leader Award in Melbourne.