Alumni on-line news
Daramalan Alumni news feed
---
Vale Mick Ward
Many of our older Alumni would remember Mick Ward from 1974. Mick had a long involvement with the College, not only as a student, but he was also very involved with the football club for many years.
His son Toby (2011) was also a Dara boy.
Mick died of a particularly aggressive form of cancer in Albury on December 15 2016. If you wish to pay your respects – and perhaps catch up with a few classmates in the process – there will be a memorial/fundraiser at the Hawker Bowls Club in early March. I'll post more details as they come to hand.
---
Passing of Fr Brian Hingerty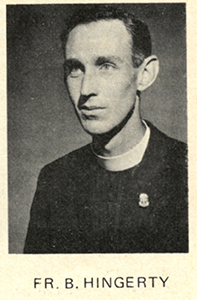 The Sixties at Daramalan was a decade of contrasts. On one hand the conservative ruling generation that had mostly experienced both the Depression and WWII strongly resisted change. On the other hand there were priests and lay staff at Dara that could see the winds of change were blowing our way and knew they could make a difference. One such agitator and link to this era passed away last week. Brian Hingerty, or Fr Brian Hingerty, when he was a priest and teacher at Daramalan, died suddenly aged 79 in Canberra.
From our perspective, as students, he was a much loved teacher excelling in Music, French, English as well as plenty of ex-curricular activities such as Choir, Cricket and Rugby.
He was not so well loved by the Archbishop at the time, after Brian and three other priests at Daramalan wrote a letter to the "Canberra Times" in 1968 questioning both the Pope's infallibility and consequently the right to make your own decisions regarding contraception. Don't forget this was the sixties and moral pathways were more clearly defined and rigid than they are today with greater expectation they would be followed without dissent.
As a consequence of this letter, Brian ended up leaving the priesthood along with Fr John Hanrahan. The third signatory, Fr Michael Fallon is still with the MSC and working in the parish around Douglas Park in the southern highlands. He was also the parish priest at Kippax for many years. The fourth priest, Fr Brundell, is still alive and working as the Parish Priest at Erskinville in Sydney..
I have posted a copy of their letter to the Canberra Times above and it resonates with common sense and logical argument, as it did when it was first published almost 50 years ago. It's well worth a read. Brian's funeral was at St's Peter and Paul Church in Garran, Tuesday September 13 2016.
Vale Fr Brian Hingerty.
---

Olympic News
Daramalan ex-student Nick Kyrgios, may feel his decision to pull out of the Olympics was justified, after claiming his second ATP title by downing John Isner in the final of the Atlanta Open over the weekend. The victory provisionally bumps Nick up to a career-high ranking of 16, and will give him a crucial top-16 seeding at the US Open later in August. We'll keep you posted.
TUESDAY 16 AUGUST 2016: Also in sporting news, Lauren Wells (Boden) from Class of 2006 competed in the Qualifying 400m Hurdles at the Rio Olympics this morning finishing in a time of 56.26, about a second and half behind the fastest qualifier. However this time is still good enough to get her into the semi-finals which will be run at 10.30am tomorrow (Wednesday) morning. Hopefully she hasn't been distracted thinking about her 10-year Reunion for the Class of 2006 to be held at the Rex on Northbourne Ave on 5 November. UPDATE WEDNESDAY: The 3rd Semi-final has now been run and unfortunately Lauren failed to make the cut. She placed 7th and only the top three go onto the finals. But great for even getting to this level.
---
 

Ex-students and teachers in the news
150 game milestone
Congratulations to ex-student Ben McGee (Class of 2003) who passed a 150 game milestone playing for the Gungahlin Eagles in 2016. Ben is now a teacher back here at Daramalan.
Dara teacher in prime position to take Netball final
"Scotland's captain Hayley Mulheron will headline a revitalised Canberra Darters squad chasing a maiden finals berth in this year's Australian Netball League", according to coach and Daramalan teacher Mel Clarke. "Mulheron played in last year's Netball World Cup, guiding the Scots to second in their pool behind Fiji."
Hayley stayed in Australia after the world cup, and Darters coach Mel Clarke jumped at the opportunity to sign her as an import for the 2016 season. Clarke said Mulheron would bring almost 10 years of international experience to the Darters, and would play a large role in the Darters' squad development. "Hayley stayed in Australia after the world cup last year, and she's keen to learn netball the Australian way," Clarke said. "She's made herself available for the ANL and we're really excited to have her on board. She adds a lot to our defensive line, and certainly will help the younger players adjust to that physicality of the ANL."
Clarke said playing alongside the ANZ Championship would give her players opportunities to be tested against some of the world's best netballers. "I think there's opportunities every week for ANZ players to be playing down against us, so there's opportunities for our players to test their skill against ANZ-level players, it will help prepare them for the next level.
The Darters take on last year's champions Victoria Fury in their season opener on April 30 before heading home to take on the Southern Force on May 14. (from The Canberra Times)
---

Youi spokesman's career began at Dara
Just remember, when you next watch one of those Youi insurance ads on TV, the face of Youi, Matthew Moore started his acting and media career right here at Dara.
---
Tim Markcrow in running for spot at Rio Games
Congratulations to ex-student Tim Markcrow from the Class of 2010 who is a hot contender to be chosen for the Paralympic Basketball team in Rio this year. http://www.canberratimes.com.au/…/paralympics-2016-tim-mark…
---
Excuse the corny puns
Free range egg farmer Nick Weber and son Fred McGrath-Weber (Class of 2011) from Majura Valley Eggs has now branched out into growing corn for both their farm-gate and for regional sale. Having a local source of fresh corn has encouraged Canberra restaurants such as "Elk and Pea" to add it to their menu.
The farm also produces border Leicester/Dorset lambs which Bungendore butcher Paul Darmody processes. In between the corn and the chooks, Fred is studying commerce at the Australian National University, and working part-time at "Parlour Wine Room" and the "Elk and Pea". (from The Canberra Times)
---
Congratulations!
---
Peking Duk is red hot at the moment
Local bands Peking Duk (Adam Hyde – Class of 2008) and SAFIA took home two gongs from the APRA (Australasian Performing Right Association) Awards a few weeks back. They won "Most Played Australian Work" and "Dance Work of the Year" for Take Me Over, beating out Sia's Chandelier.
Peking Duk's 2015 collaboration shot to number 6 on the ARIA charts and placed fifth in Triple J's Hottest 100 in 2014.
---
Sweet, sticky news from the Royal Sydney Easter Show
20-year-old beekeeper Mitchell Pearce (Class of 2012) and his family business have won a gold medal for their urban honey at the 2016 Royal Easter Show. Mitchell, the director of Canberra Urban Honey, said he felt proud, and thankful to all the capital's healthy gardens, without which the honey couldn't exist. The fourth-generation apiarist said recognition on the national stage meant he could breathe a sigh of relief. "We've been really trying to strive for an exceptional honey since we started," he said.
Mr Pearce said he wanted to thank the local hive hosts, and everyone who had contributed to the company's original crowd funding campaign.
The honey comes from 50 hives – 60,000 bees apiece – in backyards and on roofs across Canberra (some sit on top of the Hotel Realm in Barton). So far none have been seen at Daramalan, but maybe next year.
(from The Canberra Times)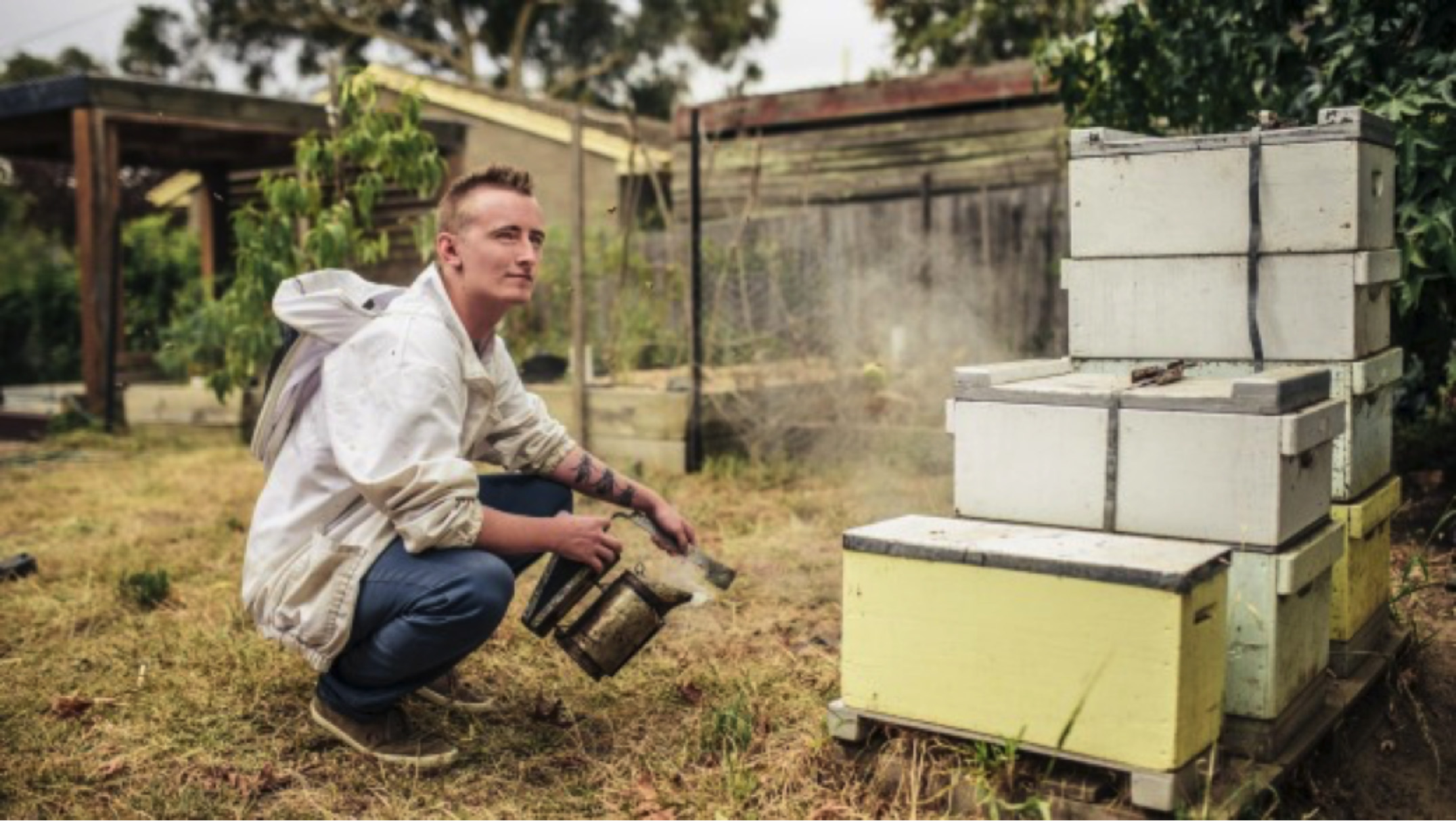 ---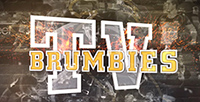 Douglas Kirk (Class of 1985) is producing/directing/editing the "Brumbies TV" show for the ONE channel. Channel 50 here in Canberra. It airs each Thursday night at 8.30pm during the footy season and covers everything "Brumbies". Highly recommended and well worth a watch.
---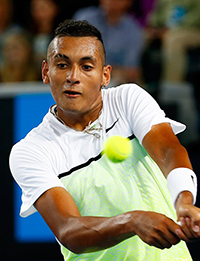 Nick Kyrgios (Class of 2012) UPDATE  28 April 2016: On his 21st birthday Nick has marched through to the quarter-finals of the Estoril Open claycourt event thanks to a hard-fought 7-6 (7-4) 7-5 win over Inigo Cervantes. It took the second-seeded Australian, who was presented with a cake to mark his 21st birthday by the tournament's ball girls, nearly an hour and 15 minutes to see off the Spaniard. He'll face Croatia's Borna Coric on Thursday (Friday Aust time) for a place in the semi-finals. We'll keep you updated.
"There are 50 things I would rather be doing on my birthday," Kyrgios said after his win.
---
Peter Campbell (Class of 1980) made it to the finals of the Tamworth Songwriter's Association Awards for "Anzac Song of the Year". The song, The Lost Soldier is here
---
Mrs Pat Smith (Teacher) celebrated her 90th birthday on Wednesday 20 April 2016. If any ex-students or fellow teachers would like to wish her well just send me an email here <bernard.kane@daramalan.act.edu.au> and I will collate them and send them on.
---
As the general manager of the ACT government-run Yarralumla Nursery, Chris Ware (Class of 1981) oversees one of the longest-running and most historically significant propagation programs in Australia and possibly the world. He helps ensure that the legend of the Lone Pine – so significant during Anzac Day commemorations – lives on around the globe.
The Lone Pine itself is a 20 metre Aleppo pine that stands strong in the lush grounds of the Australian War Memorial. The tree is named after the scene of an August 1915 Australian battle during the Gallipoli campaign in Turkey. The Turks had cut down all but one of the trees on the ridge to cover their trenches, and at least three Australian soldiers are known to have picked up one of the scattered pine cones to bring home. Lance Corporal Benjamin Smith, whose brother was killed in the battle for the Lone Pine Ridge, sent several cones home to his mother in Inverell, NSW. She kept the cone for 13 years, until 1928, when she grew two seedlings, one of which she presented to the town of Inverell, and the other to the Department of the Interior in Canberra.
Each year, a member of Mr Ware's 35-strong team begins the process of harvesting the pine seeds by encasing the growing pine cones in a wire cage in order that the tree can "father" new seedlings. The cages protect the tiny pine nuts from cockatoos who find them delicious – which is no surprise given they are often used in Middle Eastern cooking. Since the late 1940s, these tiny seeds have been delicately collected and propagated to form new seedlings.
Between 600-800 seedlings are produced each year, meaning one tree may have given rise to as many as 50,000 others. They are then purchased by the public, most commonly to be planted by RSLs, schools, councils, war memorials, arboretums and embassies around the world. After every batch of seed is logged on a register and weighed, their future destination could be just about anywhere. Mr Ware tries to keep a watching brief on the health and wellbeing of many of his high profile trees. Others, he simply stumbles over.
"Last year I was in a park in the Nelson Bay Memorial Park in Port Stephens and said to myself 'that's one of our trees' … It looked in pretty good shape." (from The Canberra Times)
---
Daramalan News 
New Science Wing under construction
The new Dempsey Science Wing is well underway and should be open before the end of Term 1 2017.
---
We sadly miss…
Tony Brighton (Class of 1974)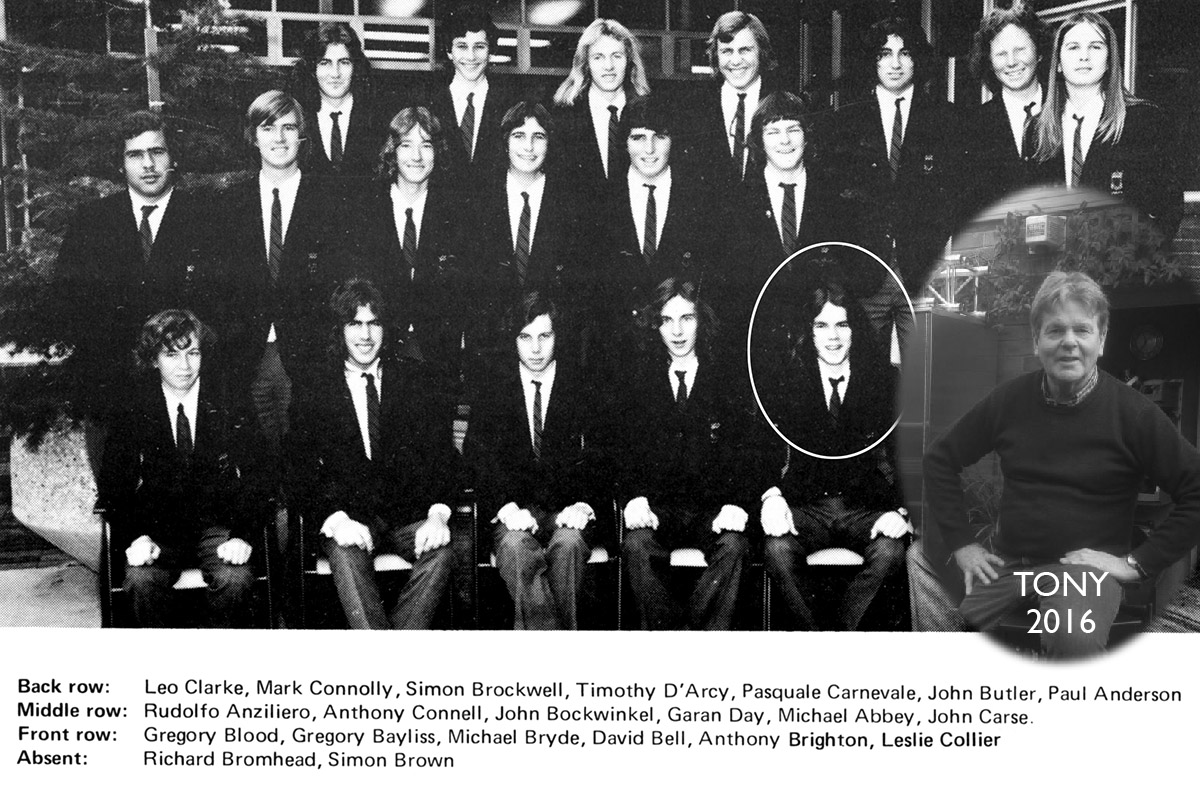 Sadly, another of our ex-students has passed away far too young. Tony Brighton from the Class of 1974 died unexpectedly earlier this week, 11 May. Tony was a well respected and much loved member of the local live music production industry and his death has been a great shock to his many friends and associates in the industry.
At the moment there are plans for a wake to be held for him at Tilleys in O'Connor next Friday 20 May. Everyone is invited.
Please keep his son Ben and family in your prayers
---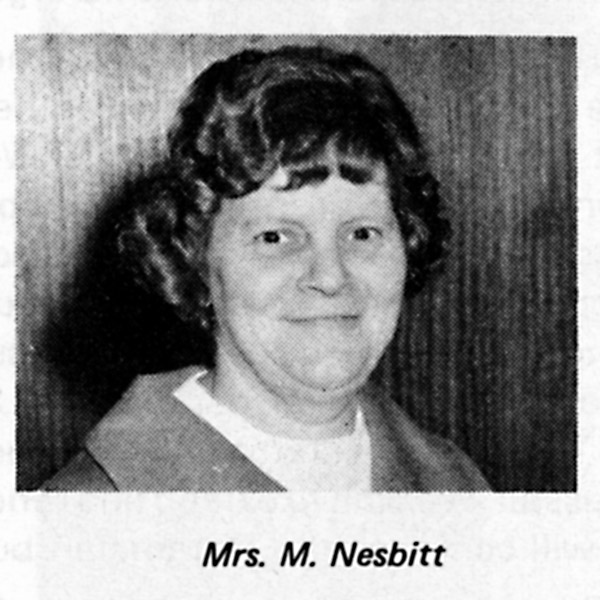 Mrs Nesbitt in 1969
Teacher

 Mrs Myfanwy Nesbitt
Many students from Dara's early years no doubt remember one of Daramalan's great teachers Mrs Myfanwy Nesbitt. Sadly, she passed away late March at the age of 91. She was a very well respected and skilled teacher who ended up as Head of the Geography Dept. as well as teaching Social Sciences. Several ex-students shared their lovely memories of Mrs Nesbitt including;
Michael Szabo:

Oh that's so sad!
Mrs Nesbitt was one of my favourite teachers during my 4 years at Daramalan and one of my inspirations to become a Geography teacher in later life. In fact, give me a map and I'm in bliss! Go figure! Years after she taught me at Dara I got to be a fellow colleague with her at Alfred Deakin High School, again, you guessed it, teaching the modern equivalent of Geography.
She was always an intelligent lady with a lovely caring manner who sought to get the best from all her students, even the naughty ones targetting learning to the special needs of those students. At that stage she was no longer Mrs Nesbitt but Myf, and a dear professional colleague.
While we use the cliche that she's had a good innings at 91, really any passing is difficult. Still it gives us all pause to consider that person's contribution to one's own life and more broadly to the community in general. She certainly has had a big impact on many, including me. I know she'll be well missed and mourned. Hopefully she'll be resting peacefully in a beautiful Welsh valley, reflecting on her time on this planet and the joy she's brought to many people's lives.
Vale Myf! I thank you for your positive impact on me. I will miss you and your wit.

from Fr John George (Taught at Daramalan in the early 60s)

Mrs Nesbitt in 1 Gold called on me in 1 Silver to restore order in her class. Having done that I returned to chaotic 1 SILVER – WHAT A DAY!
She was a good friend, quiet, friendly, reserved and ever happy.
Rest her soul!

from Tim Smyth:

Sorry to hear this, I remember her well as my geography teacher heading up to the School Certificate in 1968.

from Simon Brown:

I had Mrs Nesbitt for Geography. She terrified me when I was 10 years old, but she was a good teacher and helped get me through the subject with flying colours.

 from Chris McAppion:

As good luck would have it I was walking through Belconnen Mall a while back ( maybe a couple of years ) and I saw Mrs Nesbitt sitting on a bench waiting for someone. I would have picked her out anywhere – she really hadn't changed much, just older. My academic endeavours in her class were unspectacular and she didn't remember me but did have a chat about Geography and schooling at Daramalan back in the 1960's and 70's. We sat together for the best part of 10 minutes and I thanked her for her efforts helping me along the way. So glad I did.
---
Dara's Number 1 student dies in motorcycle accident.
Kevin Abbey (Class of 1968) sustained serious injuries on the Hume Highway after being thrown from his motorcycle. He was airlifted to Canberra Hospital, however he died on route. He was just 65 years old. Kevin held a special place within the Daramalan family because out of roughly 16,000 ex-students who have passed through the school, Kevin was student Number 1, enrolling in 1962. His brother Peter was student number 2.
I received some lovely feedback from his mates that I would like to share with you:
From Dominic Billerwell:

Thanks for the message about Kevin Abbey. Kevin and I spent many hours at his house (just a short distance from the school) during our lunch breaks. We would often have a smoke. I haven't seen him since 1964 but occasionally think of him and his brother.

From Mike Backhouse:

Shocking news indeed. Made all the worse that it was an accident and that he went before his time. I was the year behind Kevin (1969) but many of us looked up to him as a musician and he played in several bands while we were at school. Got to meet him several times over the years and talked music.

From Fr Charles Balnaves:

Tragic. I shall keep Kevin and family in my prayers especially. Regards and God bless,

From Bernard Wright:

Terrible news indeed – poor Kevin and his family

From John Martin:

Thank you for the news about Kevin. Very sad to lose such a friendly classmate. We'll keep him and the family in our prayers.

God bless.

From Jonathan Willoughby-Thomas:

All very sad.

From Geoff Short:

I well remember Kevin as one of "the big kids" and, particularly, his very sexy push bike which, unlike my daggy second-hand jobby, was new and had gears!

---
Our prayers go out to the Nesbitt and Abbey families.
---
From previous editions…
Click here to download  the Br Dave Merrick book on his years as an MSC
Click here to download the February 2016 Alumni Newsletter