Latest News
Students selected for prestigious national Science Forum
Written by Daramalan on the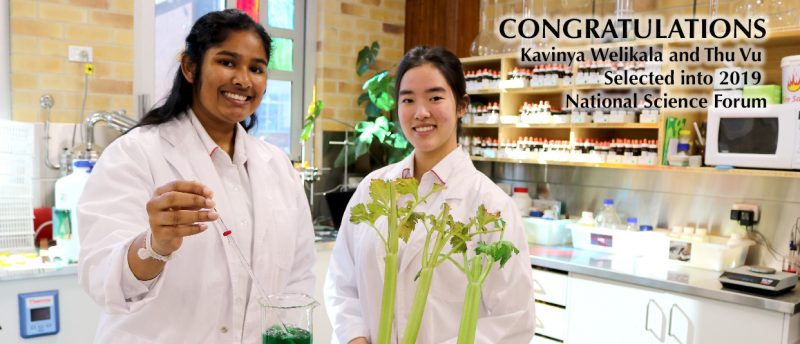 We are pleased to announce that two Daramalan Year 11 students, Kavinya Welikala and Thu Vu have been selected to participate in the prestigious program the National Youth Science Forum 2019.
They will be undertaking a 12 day residential program designed to give them a broader understanding of the study and career options available in science, technology, engineering and mathematics (STEM). They will take part in sessions on entrepreneurship, critical thinking and how to work together effectively. In addition to academic achievements, the focus of the program is also to develop well-rounded individuals who have the skills and confidence to determine their futures.
To reach this level both students had to progress through a very comprehensive selection procedure. They had to submit an application which required them to answer detailed questions, such as:
informing the NYSF community a little about themselves – their hobbies, interests, achievements and information on any extracurricular activities
what motivated them to want to attend the NYSF program
why they thought STEM is important? what role they thought STEM can play in helping address current and future challenges
their career goals and how they plan to achieve their goals
They also had to identify and contact a local Rotary Club to endorse their application
We thank our Rotary Club representative and Daramalan teacher Mr David Kurthi for assisting Thu and Kavinya in the preparation of the selection process by the Rotary Club. In this process, they
have an individual interview with a past NYSF students and a one Rotarian
undertake a group task with up to 6 student and work collaboratively to build a small project
give an individual presentation of a science related topic to 6-10 Rotarians and in front of other students
Up to 60 students are invited to the selection. Only 18 students are selected.
Kavinya and Thu will represent Daramalan in Canberra and Brisbane, and work alongside experts in their respective fields. It could possibly be a life changing opportunity for them.
This is a fabulous achievement and we are very proud of them.