Latest News
Student wins Microsoft grant
Written by Daramalan on the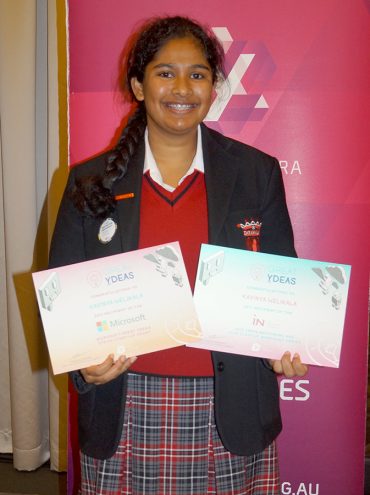 On Thursday 27 April, Kavinya Welikala (Year 10) won a Microsoft Great Ydeas STEAM Start-Up Grant from YWCA Canberra to help fund her CSIRO Gold CREST Technology project.  Her project is to develop an app that connects a heart rate monitor to a smart phone and alerts emergency services and relatives in the event of a heart attack.
The Microsoft Great Ydeas (pronounced why-deas) STEAM Start-Up Grant is a start-up grant of up to $2,000 for a woman entrepreneur (of any age) in Science, Technology, Engineering, Arts and Mathematics arena.
Kavinya was the only school-aged student awarded a grant, making her achievement even more impressive. She was also the only grant recipient to be offered participation in the CBR Innovation Network Mentoring/Lean Startup Workshop Series; a series of three workshops that include mentoring sessions with experienced entrepreneurs.
This is an outstanding achievement given the calibre of grant applicants and recipients in the YWCA Great Ydeas Small Grants Program, and provides Kavinya with access to a network of female entrepreneurs through YWCA Canberra.