Latest News
High School Musical opens 25 July
Written by Daramalan on the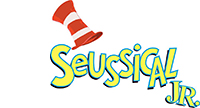 We invite all the Daramalan family and friends to book now for the High School Musical Production of 'Seussical Jr.' which is being performed the 25-28 July, the first week back of Term 3.
This years production is a wonderful collaboration of work from students in Years 7-10 and has been directed and choreographed by Year 12 double major drama students Mikayla Brady, Corey Goodberg and Alex Smith.
Many people will be familiar with the characters and stories of Dr. Seuss, so we encourage you to bring your extended family along to this all singing and dancing production which will suit young and old alike.
As you know, tickets sell out fast! Don't be disappointed, follow the link for further details and to make your booking https://www.trybooking.com/WBRP
If you have any enquiries regarding bookings, please contact joe.woodward@daramalan.act.edu.au or lucy.cronan@daramalan.act.edu.au
Thank you in advance for your support of the high school musical production!